Tokyo 13 B Branch Camp (Omi)
NIIGATA-ken, NISHIKUBIKI-gun, OMI-machi
At the site of Denki Kagaku Kogyo (now Denka Kagaku)

Satellite View
Area Map
Aerial (courtesy of Japan Map Archives)

---

Timeline:
12 May 1943: Established as Tokyo 9B
23 May 1943: 296 British arrive ex Kyokko Maru
1 Aug 1943: Renamed 7-D
14 April 1944 (Approx) - 106 Yanks arrive
August 1945: Again renamed 13-B
6 September 1945: rescue effected, men sent by train to Yokohama
Source: Wes Injerd, Wilburn Snyder & Taeko Sasamoto
---

Arrival Dates for POWS:
(Source- Taeko Sasamoto; Diet Files)
22 May 1943: 296 British
8 October 1943: 1 American
29 March 1944: 4 American
29 April 1944: 100 American
16 May 1945: 6 American
16 May 1945: 194 British

---

Books:


And all my war is done

by Steven Abbott


Triumphs and Tragedies Corregidor and Its Aftermath

by Arthur B. Baker


Substances of Hope

by Richard Stephen Sewell


See Japan and Die

by Frank Brimelow

---

Note: Rosters created from a small memorial booklet created in 1945 and sent to all known survivors by three British men: Abbott (Senior Officer), Burrough & Turner. Original rescue roster and death diaries/roster not located yet at NARA. 542 Men at rescue -432 British, 109 Americans & one New Zealander. Also rosters in NARA RG 407 Box 186.
Camp has a secret radio managed by Lt Abbott, see Liberation & Recovery photos.
---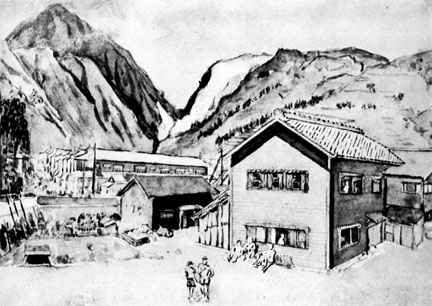 ---

Camp Picture: (below)
"This painting by Basil Were (New Zealand) was made during the fortnight's wait for evacuation following the Japanese surrender. It shows wooden barracks with tile roof on the right and, on the left, an air-raid shelter built by the prisoners."
Basil Were (Photo taken by Japanese) was a Coast Watcher captured in the Makin Atoll (now Kiribati). He was first taken to Yokohama for interrogation then moved to Zentsuji. See roster link for story of his return home.
Picture Source: Prisoners of Japan by D.O.W. Hall, War History Branch, Department of Internal Affairs, Wellington, New Zealand, 1949.

---



Photos and text courtesy of Alexis Petruzela Lehrer (Alexander Petruzela, great uncle):



Below are a couple pictures of him in uniform after the war (you can zoom in closer, one of the photos we had signed by some surviving POWs). He appears swollen in these pix as is the body's response to rehabilitation after starvation. Corporal Alexander F. Petruzela 38030884, 200th CA, TX – part of the Carlsbad, New Mexico battery and is named on the Battan memorial in Las Cruces, NM (family members nicknamed him "Alec," so my mother and I refer to him as Uncle Alec). He was a farmer and survivalist from Shiner, Texas, born to an immigrant Czechoslovak/Austrian family, and spoke primarily in Czech. He passed away on Valentines Day 1994. My mother and I have felt a wide range of emotions coming across this photograph. It must have been taken early because he still has meat on his cheeks.
Petruzela_photo1.jpg
Petruzela_photo2.jpg

Here are some quick pics of some other documents that may be of interest:

All POWs received this letter from Harry Truman before returning to the USA.
The Red Cross letter my great-grandparents received denoting my great uncle as MIA in the Philippines (note the pencil marking "please keep this letter, we might need it someday." Note his father is named Alexander Petruzela also.
I also have a prayer book he had on his person (with an April 10, 1942 Japanese military inspection stamp on it); he had this with him through his camp experiences and shows his name and camp number, 423.
Combined files on Petruzela (PDF) - Includes May 1942 letter from War Dept. re his status, affidavit, photo ("Alexander 'Uncle Alec' with my grandmother, his sister, Alice Petruzela Mikulencak, who looked after him in his later years. I often joined her on visits to the VA hospital. Even in his 70s when he stayed at her house, he was waking every night screaming from nightmares of the brutalities he had suffered.")

Primary Labor:
Quarry and Cement factory; Open hearth furnaces- chipping out the carbon ingots.

---

Known history:
A number of British, known as Force "G", arrived from Singapore (departed 25/26 Apr 1943 on the Kyokko Maru). Voyage lasted 25 days with 2 deaths (Dutchmen). (Per David Langton)
14 April 1944 (Approx) - 106 Yanks arrived from Tanagawa ex Umeda
---

Rosters:
Americans 109 Americans plus 2 deceased
Commonwealth Senior Officer Abbott
Commonwealth Dead: 60 men

Roster (RG 407 Box 115) - American and British



Group photos

(courtesy of Kevin and Linda-Lee Nicholls):

Alexander Petruzela, 2nd row, 3rd from right (see more on Petruzela below). Wider image (courtesy of Amanda Garcia; also this poster of Joe Fermin Gonzales)






MORE IDENTIFIED:


Front row, 2nd from left = Ted (Edwin G H) Painter 1st Cambridgeshires pte 5933823 (1910-1999)
Fourth row, center, wearing white singlet = PTE A Chadwick from Droylsden Manchester (brother-in-law PTE Haughton perished in the camp)

---

Special Interest: The story of New Zealander Coast Watcher, BASIL WERE, captured at Makin Island at start of war.

---

MEMORIAL:
Denka Kagaku Co. has erected a memorial close to where the camp was located, and the unveiling ceremony was held on Sept. 5, 2014. On the memorial are inscribed all of the names of the 58 British and two Americans who died while being held there, remembering their sacrifices as well as those who survived. Also acknowledged is the help given by the POW Research Network Japan.


Per organizers Kevin and Linda-Lee Nicholls, "We are interested in getting various artifacts relating to the camp, to be held in a cabinet, either at the Denka factory office or the local museum. We also hope that a Memorial book containing all of the names of the young men held in slavery be placed there. Those interested and willing to share may contact us with any stories or mementos." For further information, email the Nicholls at:
nicholls57 (at) btinternet.com.

Read

Omi Memorial Unveiling

by Kevin and Linda-Lee Nicholls (DOCX file). Our hats off to them for their tireless efforts. The following souvenir booklet copy is also from the Nicholls and contains a list of British and American POW's per unit.




Additional documents:



British Commonwealth War Graves Cemetery
Hodogaya, Yokohama, Japan
Individual graves of British POW's
who died at Omi
"Not just today, But every day,




In silence, We remember..."



(photos courtesy of Kevin and Linda-Lee Nicholls)