Tokyo-3B-YOKOHAMA
(YOKOHAMA SENPAKU)
YOKOHAMA-shi, NAKADORI, YOKOHAMA PARK (Map)
Timeline
12 Sep 1942: First known as YOKOHAMA POW CAMP
25 Sep 1942: Renamed TOKYO POW CAMP No. 2-B
1 Aug 1943: Renamed TOKYO POW CAMP No. 3-B
1 May 1944: Terminated (POWs were transferred to 17-D, 18-D and 19-D; most eventually sent to Tok-05B Niigata and Omori)
Sept 1945: Re-opened by US Military as temporary motor pool.
---
Photographs: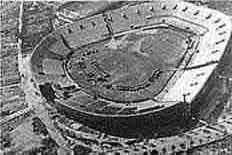 Aerial Picture of camp taken after surrender.
Slave Labor:
POWs used for stevedore work (docks and railyards) and electric motor plant
Hell Ships:
First major group of POWs arrived from Hong Kong on the Shi Maru. This hell ship departed 4th September 1942, with 620 Prisoners of War, mainly from the Shamshuipo Camp, the majority being 2 Royal Scots, 1 Middlesex Regiment and some Royal Artillery and Royal Navy men. Supposedly these men were selected for refusing to sign a "no escape" document.
British flyers shot down near Ceylon with Birchall transported to Japan on carrier Akagi
Most Americans came to Japan on the Tottori Maru.
---

Rosters:
Primary source was the roster from Richard Thomas Winter- a former "Guest of the Emperor" in this camp. Without his help, these men may never have been fully accounted for.
Commonwealth
Americans