To-45 Ofuna Naval Interrogation Center
Camp used for interrogation, frequently with excessive torture, of selected prisoners. Mostly officers and any men who were submariners and airmen. The IJ Army POW Information Bureau controlled all of the Allied POWS, except this camp which was under the control of the Navy. The facility was not called as "camp," but the "Navy Yokosuka Guard Unit Ueki Detachment."
Japanese Commander: Cmdr. Yokura Sashizo- tried and convicted- sentenced to 25 years hard labor.
---

Location:
35.21'N, 139.30'E; near Kamakura per report prepared 20 Dec 44.
Today: The POW Camp was located on the opposite side of the road from the Ryuho temple. After passing through a tunnel about 1.3 km to the south from the railway station, you will find the temple on the right side of the road, and the camp was on the other side. The site is now a large housing area. See more in PDF file download below.
Map sketch: Based upon intelligence from the Army Translation Intelligence Services, Dec 1944. The area of the camp was known as Ueki, Ofuna-cho.
Satellite map
Area map

---

Photographs:
Back of camp



Source: Courtesy of Suzanne Lauer, daughter of Lt. Horace A Smith, rescued at Rokuroshi POW Camp

Photos of camp- picture taken at Omori hospital of 4 starving men.

My father, Captain Fred D. Turnbull, USNR retired, is in picture no.14056. He is the 2nd man in from the right - short man with parcel in hand and appears to be smiling (how I don't know, but that was my dad!). My father passed away March 20, 2006, and he was a great man. If you would like to know more about him, go to this webpage. -- courtesy of Debbie Turnbull
Photo of medical examination of Navy pilot Fred Turnbull of the USS Enterprise (Australian War Museum).

POW Research Network Japan - Fieldtrip to the site of Ofuna POW Camp - About Ofuna Camp (with excellent PDF download)

Lt. James Cass Dixon USNR (VF-84), shot down on April 16, 1945. The following images are courtesy of his son, Chris Dixon/Dixon Family (images and personal collection of papers are to be used for historical reasons only):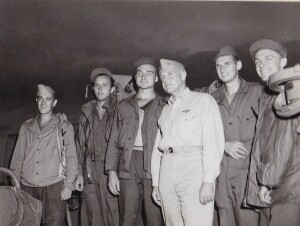 "All five prisoners were from Carrier Air Group 85,

USS Shangri La

CV-38, rescued when Ens. Fred Boyer flew a TBM to Atsugi. All five crowded aboard and returned to their ship together. (l-r) Ens. John Chapman, Lt. jg. John C. Dunn, Lt. jg. Edward Dixon, V.Adm. John H. Towers (Commander Task Force 38), Lt. jg. Richard W. Mann, and Robert F. Hanna ARM2c."

Rosters: Actual roster of rescue (135 men) mixed British and US Aviators, mostly Naval aviators shot down over Taiwan and Japan
Death roster (POWRNJ site) - click on PDF for Ofuna Navy Camp
Roster (RG 407 Box 115) - American, British

---

Dolder Rescue Team #56
Report by rescue team leader Lt. Dolder on the Ofuna Camp
Jean Balch, USN USS Yorktown- former inmate - shot down over Hong Kong-- moved to Omori.

Interview with William V. Cavanaugh, crew of B-25 shot down near Shimya.

Some important archival documents regarding POW Louis Zamperini:

---

Books
Unbroken by Laura Hillenbrand - story of Louis Zamperini, who spent his first horrible year of captivity on mainland Japan at Ofuna, 1943-1944. This book is a must-read! For a more complete story of his life after conversion, read his first book,

Devil At My Heels

(1956), and later re-published (2003).
Proof Through The Night- story of B-29 shot down on first raid (Yawata) over Japan. [See Our Review]



Special Links:


Fate of 3 Officers from Alcides - Outstanding description of camp and daily routines
Fate of Norwegian Merchant Men from the S.S. Madrono