Location:
2650 Bibai-Machi, Sorachi-gun, Hokkaido Island
Map: RG 407 lower Hokkaido showing port of Hakodate
Overall map of Hakodate Camps
---

Additonal Research by Netherlands researcher, John Slootmaekers regarding Red Cross records.
Intl Red Cross Committee: Camp Commandant as of 11 Jan 1945 was Lt Col. Shigao Emoto
---

Deceased POWs at this camp.
A 7-page PDF file at the Japanese POW Research Network (click on

Hakodate Main Camp

link). This is based solely upon Japanese records and may not always be accurate as many documents were unreadable.

---

Photos:
From British POW Jim Crinion (now residing in Urbrae, SA, Australia), we have obtained photographs of the men at time of rescue.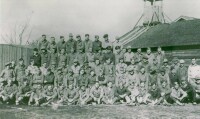 Group 1
(another scan, reverse side shows names)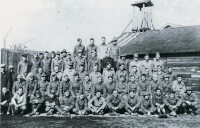 Group 2




Photos and text courtesy of Raymond Webb, son of POW Stanley Webb:



I have recently finished reading the book, UNBROKEN, and found a link to your website, and was amazed to see the same photograph that my father had in his possession. On the reverse of the photo, some one has written all the names of the men in block letters, which looks like it is in pencil, and is easily readable. My father's name was Mr Stanley Webb, Royal Air Force AC1, deceased 2006. He was a POW at Hakodate Main Camp, Bibai-Machi, in the Group 1 photo.

I am also including another photo of my father in a group photo sitting on the wing of either a Spitfire or Hurricane, I don't know where it was taken. My father told me he was in the 65 Squadron and the 232 Squadron, 1939 - 1945. Have found a few more photo's, not sure if they are relevant to your webpage or your historical interest, but if they are of interest, all good:
Webb_Air_Crew_1.jpg
Webb_Air_Crew_2.jpg
Stanley_Webb-Centre.jpg
Webb_The_Gang.jpg
Webb_hanko_stamp.jpg - wooden stamp with POW number

Hell Ships:
In the post war "Adachi" report, the first shipment of POWs from Singapore arrived on the Tofuku Maru. Departed 27 October 1942 and arrived at Moji on the 27th of November 1942. 1200 POW embarked, 27 died en route. It is understood these men had earlier been captured on Java. A second group appears to have arrived on the Wales Maru that departed Singapore 16 May 1943 and arrived Moji on 7 June 1943.
See War Crime trial regarding this shipment of POW.
---

John Fisher: RAF (84 Squadron) vet lives in California Video Interview (no longer available?)



Record of Work

(PDF) - excerpts from this booklet owned by British POW W. Holmes (dating from Jan. 1943). Scan also includes some of the Japanese currency presumably paid to Holmes. (Courtesy of Margaret Saville-Brown, whose son found these while cleaning out a neighbor's garage.)
---

Complete Rescue Rosters: (As of 15 August 1945)
British
American, Dutch, Canadian & Estonian