In Memory of a Hero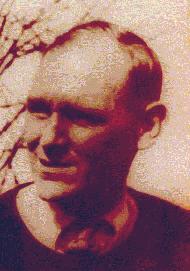 On March 21, 1945, Peter W. Hansen, an American, died in a city on the island of Kyushu in southwestern Japan, a city called Fukuoka. He died amongst a grove of pine trees alongside a river at a prisoner of war camp known as Fukuoka Camp No. 1.
The official cause of his death was recorded as "acute enteritis," though the real cause was all too familiar with his fellow POWs -- being forced to do calisthenics while extremely weak and sick, and being denied the medicines to treat his illness.
Hansen was captured on Wake Island where he was working for the Morrison-Knudsen Company building an airfield. He was a civilian, which makes his death even more senseless, for he never was directly in battle against the Japanese. He was just a worker on a Pacific island and taken captive only weeks after Pearl Harbor was attacked.
For three and a half years Hansen suffered at the hands of his captors. He was involved in construction projects for the Japanese: for the war effort, against his will, and against the Geneva Convention. His body, gradually weakened through beatings, forced exercise, bitter cold, poor diet and debilitating disease, could no longer take it, and he succumbed, like many others before him, and many others after him.
He never got to see his dear wife again, nor were his three children ever to see their beloved father again. His body was cremated in a small town just next to the airfield, now Fukuoka International Airport, which he helped build. His ashes are interred at the Jefferson Barracks National Cemetery in St. Louis, Missouri, Section 82, Grave 1B-1D. Gerard Moran has written an excellent piece on Mary-Anne Stickney's search for her father, Peter Hansen. You can read The Hansen Story here. For an excellent book on the background of those who worked with Hansen, read Building for War - The Epic Saga of the Civilian Contractors and Marines of Wake Island in WWII by Bonita Gilbert (2012).
And there are other heroes... many others.
The date to remember is May 5th. On that day in 1945 a B-29 crashed in Taketa, Oita. Six of the airmen captured from that plane were dissected alive at a university lab in Fukuoka in the days following that crash. Their story is here as well. It is a story that has brought this city a notoriety from which it no doubt would like to distance itself.
This webpage is dedicated to the memory of heroes like Peter Hansen and those airmen who had to go through more than we could ever imagine. Some never really knew World War II, for they were captured from the start. Yet they did not give up, but endured to the last breath.
The POW story, however, is a complex one -- there is no way to relate the whole story. These pages tell of only a minute piece of the whole. I hope that I can in some small way contribute to a better understanding of what went on at a Japanese prisoner of war camp, namely Fukuoka POW Camp #1, and help others find out what happened to their husbands, their fathers, grandfathers, and great-grandfathers who were at one time interned here.
When you go home,
Tell them of us and say:
"For your tomorrow, We gave our today"
-- Inscription at Kohima Memorial, Burma, 1944
"The men and women who suffered through the atrocious conditions of internment deserve our utmost gratitude and respect. Their fortitude serves as an example of placing the ideals of freedom and self-government above one's own interests. Many thousands gave their lives as the ultimate sacrifice, both on the battlefield and in the deadly prison camps of the Pacific and Europe." -- U.S. President George W. Bush, 2001
This book is for the generations who have not experienced a world war (and God willing, never will), and for future generations and researchers who may want to learn about the price to be paid for freedom.
There may be value in their knowing that death marches, the living hell of sealed boxcars, the stench of death, the green hell of jungle, the mental rot of a jail, and the unspeakable holds of rusty transport ships can happen -- and that people survived them. There may be value in knowing how men, women, and children can endure even the most desperate conditions and, in their will to retain their humanity, triumph over appalling adversity.
There may be value in knowing how men and women gave up their lives for their "brothers and sisters." How they helped each other to live. How where there had been darkness, there had come forces of light -- where despair, hope -- where fear, faith -- where hate, love.
From the Introduction of Van Waterford's
Prisoners of the Japanese in World War II