In Memory of a Hero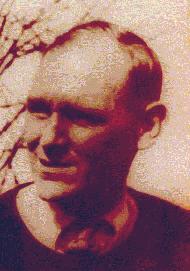 On March 21, 1945, Peter W. Hansen, an American, died in a city on the island of Kyushu in southwestern Japan, a city called Fukuoka. He died amongst a grove of pine trees alongside a river at a prisoner of war camp known as Fukuoka Camp No. 1.
The official cause of his death was recorded as "acute enteritis," though the real cause was all too familiar with his fellow POWs -- being forced to do calisthenics while extremely weak and sick, and being denied the medicines to treat his illness.
Hansen was captured on Wake Island where he was working for the Morrison-Knudsen Company building an airfield. He was a civilian, which makes his death even more senseless, for he never was directly in battle against the Japanese. He was just a worker on a Pacific island and taken captive only weeks after Pearl Harbor was attacked.
For three and a half years Hansen suffered at the hands of his captors. He was involved in construction projects for the Japanese: for the war effort, against his will, and against the Geneva Convention. His body, gradually weakened through beatings, forced exercise, bitter cold, poor diet and debilitating disease, could no longer take it, and he succumbed, like many others before him, and many others after him.
He never got to see his dear wife again, nor were his three children ever to see their beloved father again. His body was cremated in a small town just next to the airfield, now Fukuoka International Airport, which he helped build. His ashes are interred at the Jefferson Barracks National Cemetery in St. Louis, Missouri, Section 82, Grave 1B-1D. Gerard Moran has written an excellent piece on Mary-Anne Stickney's search for her father, Peter Hansen. You can read The Hansen Story here. For an excellent book on the background of those who worked with Hansen, read Building for War - The Epic Saga of the Civilian Contractors and Marines of Wake Island in WWII by Bonita Gilbert (2012).
And there are other heroes... many others.
The date to remember is May 5th. On that day in 1945 a B-29 crashed in Taketa, Oita. Six of the airmen captured from that plane were dissected alive at a university lab in Fukuoka in the days following that crash. Their story is here as well. It is a story that has brought this city a notoriety from which it no doubt would like to distance itself.
This webpage is dedicated to the memory of heroes like Peter Hansen and those airmen who had to go through more than we could ever imagine. Some never really knew World War II, for they were captured from the start. Yet they did not give up, but endured to the last breath.
The POW story, however, is a complex one -- there is no way to relate the whole story. These pages tell of only a minute piece of the whole. I hope that I can in some small way contribute to a better understanding of what went on at a Japanese prisoner of war camp, namely Fukuoka POW Camp #1, and help others find out what happened to their husbands, their fathers, grandfathers, and great-grandfathers who were at one time interned here.
When you go home,
Tell them of us and say:
"For your tomorrow, We gave our today"
-- Inscription at Kohima Memorial, Burma, 1944
"The men and women who suffered through the atrocious conditions of internment deserve our utmost gratitude and respect. Their fortitude serves as an example of placing the ideals of freedom and self-government above one's own interests. Many thousands gave their lives as the ultimate sacrifice, both on the battlefield and in the deadly prison camps of the Pacific and Europe." -- U.S. President George W. Bush, 2001
This book is for the generations who have not experienced a world war (and God willing, never will), and for future generations and researchers who may want to learn about the price to be paid for freedom.
There may be value in their knowing that death marches, the living hell of sealed boxcars, the stench of death, the green hell of jungle, the mental rot of a jail, and the unspeakable holds of rusty transport ships can happen -- and that people survived them. There may be value in knowing how men, women, and children can endure even the most desperate conditions and, in their will to retain their humanity, triumph over appalling adversity.
There may be value in knowing how men and women gave up their lives for their "brothers and sisters." How they helped each other to live. How where there had been darkness, there had come forces of light -- where despair, hope -- where fear, faith -- where hate, love.
From the Introduction of Van Waterford's
Prisoners of the Japanese in World War II
Update Chronology
2002 -- 2003 -- 2004 -- 2005 - 2006 - 2007 - 2008
2009 - 2010 - 2011
May 14, 2001 -- Posted main pages INDEX HERE
May 15 -- Roland book now available! / New links added
May 16 -- More Additional Documents added / Saunders' Report on POW Camps (of special note is Point #7)
May 17 -- Letters & Comments section added / Parrott letters put into TXT file / New info in POW Statistics section / About Holmes book
May 18 -- Retitled section Memorials and added new photo of Sasebo memorial / Photo of beheading and excerpt from Craig book
May 19 -- Excerpt from Holmes book, and other info / Kyushu Univ. campus photo / Australian POW statistics / On being captured / Article on war-files law / Photo of POWs at Changi Camp
May 22 -- Article on plight of POWs
May 23 -- Langa List link added
May 26 -- FASCINATING Diary of Lt. Col. Shreve and related info on Invasion of Kyushu / Facts about transport ships by Daws / Strategic Bombing Survey link added
May 29 -- Graphic account by Lt. Col. Schwartz incl. his sketch of Camp #1 / Lester Tenney on ABC-NEWS
June 2 -- Hansen death certificate and record card / Roland article on vivisections / Dutch Medical Officer J. F. de Wijn affidavit
June 5 -- Quotes re invasion of Japan / Australian affidavits / Novel and possible movie
June 11 -- Article on former Commandant Shirabe / POW lawsuit links / Assorted POW statistics / Article on Mizumaki
June 16 -- Photo of Fukuoka devastation after the Air Raid of June 19th / Affidavits by U.S. civilian Burns and British Capt. Wallace / Webpages split into total of 9 pages / Quote by Pres. Bush
June 19 (Incendiary Bombing of Fukuoka) -- List of Japanese firms named in slave labor cases / Excerpts from article on June 20 incident / Excerpts from article on bombing of Omuta and B-29 crash of July 27th
July 2 -- Affidavit by British Bombardier Lee describing Kumamoto, Kashii and Mushiroda locations (note reference to the rainy season) / More excerpts added: August 10 & 15 incidents
July 11 -- Recent review of this website in Netsurfer Digest / Article mentioning Cecil Parrott / New books on Bataan Death March and Japanese internment / Excellent article from Parade Magazine re POW lawsuit and bill
From CFIR News: "The History Channel and A & E are doing some important programs. Be sure to watch these: Sworn to Secrecy - Hirohito, the War Criminal, (will be released in July or August), and Chemical & Biological Weapons (aired in May)."
July 23 -- British Bombardier Eastham's description of Kumamoto, Kashii and Mushiroda camps / Book by Ted Spaulding with excerpt describing his life at Camp #1 / Lawsuit updates including comment on San Francisco Peace Treaty of 1951
August 2 -- A very moving article from The Denver Post on Jesse Miller / Location of Mushiroda camp pinpointed / Lengthy but fascinating Review of the Staff Judge Advocate on the Trial of Masato Hada / Article by POW who says A-bomb saved his life
August 16 -- Australian affidavits, Dilger and French / List of POW and Japanese affidavits
August 28 -- Australian affidavit, Underwood / Very good description of Hakozaki camp by Army Air Force Capt. Goodpasture
September 15th is National POW/MIA Recognition Day
September 10 -- Lengthy article from Japanese newspaper on POW lawsuits, including related articles on recent apology from Japan Foreign Minister Tanaka
October 2 -- A tribute to all ex-POWs from The Quan: "Your story must be told!"
October 9 -- Article on Dolf Winkler and the story behind the establishing of the Mizumaki Cross Memorial site: "How one small town in Kyushu is going out of its way to promote reconciliation between former enemies" / Company names added to POW Camps in Kyushu list
October 21 -- Short section on Aug. 15 beheading added / Photo of Brazil-maru; text file on Oryoku-maru story
November 11 -- Veterans Day Special: Amazing story of Rodney Kephart (civilian ex-POW who was awarded the Purple Heart medal) and his part in making the Victory Flag that flew over Camp #6, just northeast of Fukuoka.
November 17 -- Categories added to Memorials section, including the tragic story of the crew aboard a B-29 that crashed in central Kyushu as it was on a relief supply mission to a POW camp near Fukuoka / More info added to B-29 Crashes section / POW Camps in Kyushu list updated
November 18 -- B-29 crash memorial sites in other areas of Japan added to Memorials section
November 26 -- Book by Rodney Kephart / Article by Kudo on B-29 crash in Takachiho / Large addition of American affidavits: A thru C
December 3 -- Dec. 7 is Pearl Harbor Day -- From article by Hampton Sides on the Bataan Death March survivors' memories and psychological scars / Article on Cecil Parrott / Lawsuit update / New book review: Death on the Hellships / Calendar of Upcoming Events
December 14 -- Excerpt from Sides on annihilation of POWs / Editorial on lawsuits / More American affidavits: D thru H
December 23 -- Another day to remember: Dec. 23, 1945 - Defenders of Wake Island captured, resulting in the longest captivity for Allied POWs of the Pacific War / Comment by Matthew Poole on treatment of captives / Report on Omuta Camp #17 / Note on Americans killing Americans aboard hellships / The POWs of the "Doolittle Raiders" article with inspirational Testimony by DeShazer
December 25 -- A MUST-READ! Excellent account of life at Camp #1 by Dutch POW Gerry Nolthenius, with his straight-forward views on British and American POWs, the "fate" of interpreter Katsura, and life after liberation. Read also a section from his book's Introduction.
January 2, 2002 -- Images from a war-time magazine for Japanese children: "Shoot down the B-29!" / More assorted images for children including interesting trivia on former Emperor Hirohito / More info on Naoetsu Peace Memorial Park, and related books / Comprehensive Charts on Fukuoka Area POW Camps
January 13 -- Link for amazing photos of Oryoku-maru under attack / Photos of Kyushu University Medical Dept. (where vivisections took place) and Western Army HQ
January 23 -- More American affidavits: J thru P / Fukuoka Fever, Benjo Boogie, Hirohito's Curse: Medical Officer Hewlett's description of the diseases which afflicted POWs at Omuta Camp #17 / POW Camp Districts: Number of Sub-Camps, Internees and Deaths / More added to Letters & Comments
February 5 -- Correspondence from Australian ex-POW Neil MacPherson who slave-labored on the Burma "Death Railway" / Lawsuit update from The Quan / Statistics on the Oryoku-maru, Brazil-maru and Enoura-maru

---

EXCERPT FROM GISHIWAJINDEN -- Himiko, Queen of Wa: an unedited excerpt from my ongoing research on one of the earliest Chinese chronicles dealing with the early Japanese, the Wajin

---

February 13 -- Article from People magazine on Lester Tenney / New book on the Japanese hell ship Oryoku-maru
February 19 -- More links on Jacob DeShazer of the Doolittle Raiders and his remarkable story / Last of American affidavits: R thru W
February 26 -- TIF files on the Oryoku-maru story have been typed up / Visit Mark Kelso's excellent site on the Oryoku-maru story, dedicated to his grandfather who died in Kokura Hospital shortly after arriving in Moji
March 13 -- Japanese personnel rosters (Fukuoka HQ and Camp #1) typed up and placed in table / Photo of Gerry and Hennie Nolthenius, and Gerry's sketch of Camp #1, Hakozaki / Leaflet explaining contents of relief supplies / Trial records added to Additional Documents
April 15 -- Nolthenius letter and article / Fepow Community Top Site Award! / Official dates added to Locations of Camp #1
April 27 -- Blurb about movie on POWs due out this fall / MacPherson and Heron trip to former POW camp in Emukae / In Memory of Ted Spaulding / Comments by Utsumi on treatment of POWs / Image of POW camps in Japan / Article on Parrott and lawsuits / Info re Main Camp added to Fukuoka Area POW Camps chart
May 1
May 13
June 11
November 6 -- After a long break and a move back to the US.....
---
Nov. 11 - Veterans Day - A Time to Remember
All EX-POWs have one common goal to pass along to future generations, REMEMBER THEM. Remember the men who died in battle, remember the men who marched days upon days with no food or water, remember the men who were beaten when they worked and killed when they did not. Remember the men who had to wait to die in the Zero Ward, remember the men who lost their lives at sea after their hellship was sunk, and remember the men who survived their 3½-year ordeal.

All prisoners of the Japanese will tell you, We can forgive, but we can't forget.
Read this moving article in entirety at the above source. Entitled Liberation, this article will help give you a better idea, indeed, a better feeling of what it was like to be a POW who has suffered, endured, survived, and had his first taste of freedom after years of internment. Certainly we have not even begun to appreciate the sacrifices these veterans, veterans of a different kind of war, had to make.
They fought, not on the front lines, but behind enemy lines... not with weapons, but with a strong will to survive... not against an enemy at a distance, but with one face to face, daily under attack... without any way of defending themselves... without any option of retreat... without proper food, rest or medication.
And they are still fighting today, against both physical and mental scars, the haunting memories that will never go away until death takes it from them.
We owe a lot to these veterans of a different kind of war who gave a lot for their country, for their families, for us. Let us then, who enjoy the benefits of their sacrifices, do our best to honor all veterans and do what we can to show our appreciation for what they have done.
Let us make this Veterans Day 2002 a day of special remembrance and appreciation.
---
November 7
November 30
December 2
December 11
February 1, 2003
February 3
February 12
June 23
July 8

Camp #1 Roster in table format, showing Name, Nationality and Rank
Master roster for all Kyushu POW camps started (delimited text file)

July 14

Testimony of Claude Howes, a civilian captured on Wake Island, with newspaper article showing other civilian POWs
Photo of Peter Hansen (below)
Website migrated to Comcast

July 21

Donald Hanes profile - POW who died at Camp #1 (this link has many photos and stories on Bataan and POWs)
Master Roster updated

July 28
July 31

Links to To End All Wars movie
Master Roster updated -- all American rosters have been added

August 9
August 12
October 3
October 6
October 22
November 5
November 11
November 21
November 27
December 2

Visit Michael Palmer's website on his grandfather, George Palmer, who served with the Royal Rifles of Canada and was a POW at Kawasaki/Soeda #5, one of the many coal mining camps in north central Kyushu. Of special note is the amazingly detailed diary of Lance Ross and his time at Camp #5.

December 9
December 25
January 5, 2004
February 11

Bataan Memorial Death March is on March 21, 2004 -- "in honor of the heroic service members who defended the Philippine Islands during World War II, sacrificing their freedom, health and, in many cases, their very lives."

March 10
March 16
April 1
---
For Immediate Release
Office of the Press Secretary
April 12, 2004
National Former Prisoner of War Recognition Day, 2004
By the President of the United States of America
A Proclamation
Americans look to our veterans as examples of honor and patriotism. These loyal citizens have risked capture, imprisonment, and their lives to protect our homeland and advance freedom abroad. As we observe National Former Prisoner of War Recognition Day, we honor brave Americans who have demonstrated extraordinary courage in the face of hardship and terror.
Today, nine out of ten former prisoners of war are veterans of World War II. These Americans helped to liberate millions and defeat tyranny around the world, and survived unspeakable horrors for the cause of freedom. From enduring hard labor in German and Japanese POW camps to the torturous Bataan Death March, these proud patriots showed strength of character and incredible resolve in captivity. Their devotion to duty and love of country stand as a measure of service few others will attain.
America will never forget these quiet heroes and all of our former prisoners of war who suffered adversity in Korea, Vietnam, the Persian Gulf, Somalia, Kosovo, Iraq, and other conflicts. Our Nation is grateful to our former prisoners of war for their sacrifice to help protect the democratic ideals that make our country strong. Because of the dedication of these men and women in uniform, people in our own country and in lands far away can live in freedom. These citizens inspire us, and we will always remember their service for liberty's blessings.
NOW, THEREFORE, I, GEORGE W. BUSH, President of the United States of America, by virtue of the authority vested in me by the Constitution and laws of the United States, do hereby proclaim April 9, 2004, as National Former Prisoner of War Recognition Day. I call upon all Americans to join me in remembering all former American prisoners of war who suffered the hardships of enemy captivity. I also call upon Federal, State, and local government officials and private organizations to observe this day with appropriate ceremonies and activities.
IN WITNESS WHEREOF, I have hereunto set my hand this ninth day of April, in the year of our Lord two thousand four, and of the Independence of the United States of America the two hundred and twenty-eighth.
GEORGE W. BUSH
---
April 15, 2004: Cecil Parrott, Death March survivor, dies -- Another hero and good friend passes on.
May 11

POW Research Network Japan -- Excellent research group in Japan working on compiling complete rosters of all POW deaths in Japan. Rosters are mostly completed for the 1,853 Commonwealth servicemen (United Kingdom, Australia, Canada, New Zealand, India and Pakistan) buried at the Commonwealth War Cemetery in Yokohama. A list of American and Dutch POWs who died at POW camps throughout Japan will soon be posted. See related article "Japanese researchers on POWs hope to heal war wounds."
Japan Times article on recent visit of Australian POWs (Neil MacPherson, Jack Boon, Jack Simmonds) to Kyushu camp sites at Saganoseki, Emukae and Omuta. See also related news blurb "Australian ex-POW revisits WWII detention site in Oita."
More on the movie, To End All Wars, "a cross between Mel Gibson's The Passion and Band of Brothers"

May 26 -- Memorial Day Special

Honor Roll of former POWs who attended the recent ADBC Convention. A great honor indeed it was to be with these amazing men and listen to their stories -- the horrendous as well as the humorous -- stories that deserve to be included in our school's history textbooks, that the youth of this nation may learn about these heroes of WWII. We all have so much to learn from these men who endured, who survived, and who deserve never to be forgotten.
Song of Survival -- a remarkable and very moving documentary of the Australian, Dutch and British women who formed a choir to "sustain a spirit that refused to accept defeat."
Commentaries by Lester Tenney in the Japan Today news

June 12 -- Flag Day Special
June 26
July 8

New book out on beheadings and vivisections in Fukuoka -- The Fallen: A True Story of American POWs and Japanese Wartime Atrocities by Marc Landas

July 17

Pacific Roster -- Over 18,500 American POWs listed in camps throughout Asia (large CSV file, 900K)

August 5
September 18
November 28

New bilingual website -- US-Japan Dialogue on POWs -- featuring short stories from POWs and their children, including video interviews and a slideshow on the POW experience

December 31
January 15, 2005
March 5
April 25

POW Supply Missions to Japan -- 20th Air Force report on relief supply missions to POW camps at the end of WWII. Many photos with descriptions of actual camp sites. (NOTE: These are large pages due to images.)

April 30

Prisoner of War Encampments -- Excerpts from a CINCPAC report showing maps and reconnaissance photographs taken prior to the end of World War II in an effort to identify possible sites of POW camps in the Far East

May 13

New account made (home.comcast.net/~japanpow)
Recovery and Rescue of POWs in Japan -- An amazing assortment of photographs taken at various POW camps by the U.S. Recovery Team in September 1945. (These pages are VERY large due to images.)

May 14 -- 4th Anniversary of this website
May 21
May 30, Memorial Day
June 4
July 13
August 7
October 1
January 7, 2006
February 15
July 18

Allen Godfrey Jones webpage -- "A prisoner of war at Changi, Great World Camp, River Valley Road Camp, Fukuoka #1 and #17"

September 9
October 5
October 23
November 6

A MUST-READ! Very well-written document on POW camps, including information on every camp in Japan: POW Camps in Japan Proper (link at top of page)

February 19, 2007

Launch of EO9066 website, The Preservation of a People, dealing with the evacuation and relocation of people of Japanese ancestry during WWII

May 26
September 10
September 25
January 24, 2008
April 15

Complete CINCPAC - CINCPOA document, Prisoner of War Encampments (June 15, 1945). These are VERY large pages containing many images, broadband connection recommended.

February 17, 2009
March 11
April 29
May 5
November 30

Camp PDF profiles in Japanese added to Camp Group Chart

December 15
December 19
April 10, 2010
April 20
May 10
May 27
June 4
February 8, 2011
February 12
February 15
April 29

July 4, 2012

- Case Files for vivisection and Aburayama atrocities
August 9 - Updated B-29 crashes list for Kyushu
October 20 - Added new geo-locations to Fukuoka Main Camp for the Western Imperial Army HQ underground evacuation sites at

Hirao Caves

and

Yamae Caves

November 29 - Added PDF link for Tactical Mission Report on POW Supply missions

January 3, 2013

- PDF scan of an archival document of March 5, 1946 which shows captured airmen listed as being killed by the A-bomb in Hiroshima, a ploy used by the Japanese military to cover up the vivisection atrocities