Fukuoka 14-B "Nagasaki"
Location:
NAGASAKI-shi, SAIWAI-machi
Satellite View
Aerial (Nov. 1947; courtesy of Japan Map Archives) - Camp was 1850 meters (1.15 miles) from ground zero and was completely destroyed by the A-bomb
Area Map - relation to other Fukuoka area POW camps

Employer of slave laborers:
MITSUBISHI JUKOGYO NAGASAKI ZOSEN-JO [Mitsubishi Foundry Co.]
---

History:
22 Apr 1943: Established as Fukuoka 14B
Sept 1945: Rescue effected
---

Time Line:
Source: Henk Beekhuis -Dutch POW
25 April 1943: group arrived (about 300 Dutch)
15 May 1943: group arrived (two Dutch nurses) ex Fukuoka #2. Included the Dutch medics, Dr Huisman and nurses Charles Alexander Denkelaar and Schenkhuizen.
28 August 1943: group arrived (12 men coming from Moekden/Mukden?)
4 Dec 1943: British known to have arrived ex Singapore per Bryer affidavit - Hawaii Maru (Maru Shichi (7) per Michno's book, "Death on the Hellships")
24 March 1944: group arrived (2 Americans: Lowe and Van Allen, liberated at FUK-05) from the Kenwa Maru.
25 June 1944: group arrived (about 200 survivors of the Tamahoko Maru)
---

Known facts:
Survivors of Tamahoko Maru, sunk 24 June 1944, taken to this camp; not all survived. Tamahoko Maru carried 772 POWs, 560 perished.
Report of British & Australian survivors ref the sinking of the Tamahoko Maru
British POW Ronald Edwin Bryer: article #1, #2

---
Labor:
Iron Foundry, Mitsubishi
George Duffy's Camp Description
We advise you to read the Duffy site.
Summary:
(Special thanks to the POW Research Network of Japan)
The POWs were used by Mitsubishi Heavy Industry Company. 195 POWs (152 Dutch, 24 Australian and 19 British) were imprisoned at the end of the war. 113 POWs died while imprisonment, 8 of whom were killed by Atomic Bomb. For full PDF report in Japanese, see here under 長崎三菱造船分所.
Eye Witness Report: Javanese/Dutch POW excellent description of atom blast and camp.
Books: Allistair Urquhart, "The Forgotten Highlander"; Bob Jackson, "A Doctor's Sword"

Hellships:
Dutch arrived from Singapore on the Hawaii Maru, landing in Moji per Ronald Scholte.

---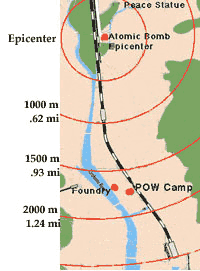 Map Courtesy of US Merchant Marine Assn
---
Deceased: POW Research Network

Rosters:
FUK-14_Rosters_1946-02-16.pdf - ORIGINALS

See also Henk Beekhuis' website (in Dutch) for info on #14 including rosters (Naamlijsten, per camp and alphabetical).

BBC "People's War" story by British POW Gunner Neil Millar Reid, 77th AA (H) 241 Battery.