Name: Tokyo MAIN CAMP (OMORI)
(NIPPON TSUUN)
Location: TOKYO-to, OMORI-ku, IRIARAI-machi - This was a man-made island constructed for the purpose of isolating the POWS. Constructed mostly by men from Shinagawa Camp.
MAP Relief Map (Comparative location)
Satellite (Shinagawa-Location #1) Satellite (Omori)

---
Time Line:

12 Sep 1942:
First known as Shinagawa POW Camp, located at Shinagawa-ku, Keihin Unga Kensetsu office
25 Sep 1942:
Renamed Tokyo POW Main Camp.
13 May 1945: Influx of POWS from
Tok-13B Asano Docks
20 Jul 1943:
Moved to Omori-ku, Iriarai-machi
1 Aug 1943:
Shinagawa Hospital established as separate entity.
Sept 1945: Rescue effected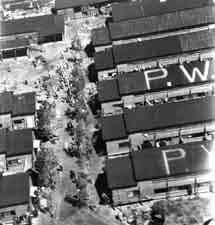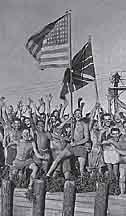 Click on picture for larger view

Photographs- External Link- Dozens of pictures posted by Wes Injerd; includes many classic POW images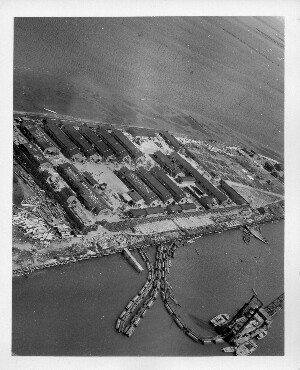 Photo courtesy of Peter Somerville - his father was a Helldiver pilot from the USS Hancock

---
---
William A. Dixon - B-25 navigator/bombardier, Attu

Herewith are the facts as I know them of my father's imprisonment by the Japanese from September 9, 1944 to August 29, 1945: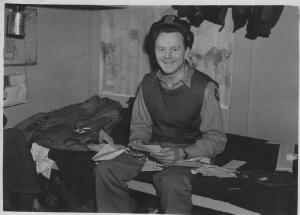 As of approximately June 1944, my father,
William A. Dixon
, was a navigator/bombardier aboard a B-25 stationed on Attu in the Aleutians with the 77th Bomber Squadron, 28th Bomb Group of the 11th Air Force (Corps). Most missions targeted Japanese shipping and garrisons in and around Paramushiru in the northern Kuriles. Members of the flight crew were Pilot: 2nd. Lt. Albert D. Scott of Weleetka, OK, Co-Pilot: F/O William (Vic) Gallo of Apollo, PA, Navigator/Bombardier: 2nd. Lt. William A. Dixon of Mountain View, NJ (AKA: Lincoln Park, NJ), Gunner: Sgt. Reynald P. Isrussi of Cleveland, OH, Gunner: SSgt. Carmen DiOrio of Chicago, IL, Flight Engineer: SSgt. Arthur O. Knipe of Haverhill, MA.
They were shot down on their 10th mission on September 9, 1944. They attacked a five ship convoy off Paramushiru (2 gunboats, 2 freighters, 1 tanker) They took two runs on a freighter. The first was a strafing run and the second was to be a bombing run. Ack ack fire from gunboats hit their right engine on approach which resulted in failure to gain sufficient altitude to clear freighter mast which sheared off tail fins and they tumbled into the sea. All but DiOrio and Knipe survived crash. Gallo, Isrussi, Scott, and Dixon picked up by fishing boats and brought to Paramushiru and kept in caves, interrogated by Japanese officers daily for 10 days. They were then put aboard two Japanese freighters (ironically the same ships they attempted to bomb.) in solitary confinement. My father was held in a cargo hold, naked except for a smelly fur jacket, a sanitary bucket, container of water, and dog bones. The journey lasted four days and they docked at Hokkaido where they took a train to an airport where they boarded a captured American C-47 to Yokohama and the Ofuna interrogation camp. It was there that he first met
"Pappy" Boyington
, the Marine ace, who also subsequently was imprisoned at Omori along with Commander O'Kane of the USS Tang. After the first of the year they were shipped by truck and train to Omori, a registered camp outside Tokyo.
While in captivity my father was interrogated, beaten, starved, and abused until liberated by the US Navy on August 29, 1945. He was too weak to join in the celebration as he was down to 90 pounds and suffered from many afflictions such as carbuncles, boils, hepatitis, yellow jaundice, dengue fever, dysentery, malaria, beriberi, and anxiety neurosis. He was hospitalized for several weeks aboard the "USS Benevolence" for a few weeks, flown out of Tokyo to Guam, then to Hawaii, and then San Francisco.
-- Bill Dixon (Jr.)

See also this
excerpt from William Dixon's memoirs
, courtesy of Bill Dixon Jr.
Omori, Tokyo Base Camp

---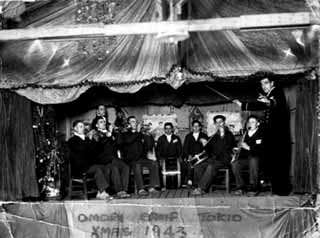 Christmas 1943- Posed propaganda photo
---

Rosters:
Americans
British and Allies

The above are available in other formats, e.g., QPW, ELZ, Tab,DB. Simply contact us.

Deceased:
Shinagawa-Omori [External Link- pdf file]

---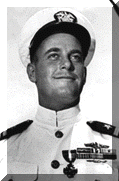 Richard Hetherington O'Kane
Recipient of the Medal of Honor
Commander of USS Tang


Some important archival documents regarding POW Louis Zamperini:

---

Special: The story of Delbert Miller, shot down over Japan and managed to survive [External Link]



Robert Ross

, Pvt, Royal Scots - photo - Red Cross document - Index card front, back (courtesy of Raymond Ross)


"Here is a photo of my grandfather and a Red Cross doc. He was catcher at Hong Kong and sent to OMORI Tokyo Base Camp #1."

---

Japanese Staff:
---

Lt. Lewis M. Bush Report - DOC file (transcription courtesy of Scott Proudfit) on conditions at the camp, including political; mentions Watanabe "The Bird," aka "Mr. Brown" (Bush wrote about his experiences in his hard-to-find book, Clutch of Circumstance).


---
Recommended Books:
Unbroken by Laura Hillenbrand - story of Louis Zamperini, who spent time at Omori from Sept. 1944 to Feb. 1945. This book is a must-read! For a more complete story of his life after conversion, read his first book, Devil At My Heels (1956), and later re-published (2003).

Hap's War [External Link] B-29 Crewman shot down over Tokyo. Well illustrated and descriptive.
Proof Through The Night - Excellent story of a B-29 pilot shot down on the first raid (Yawata) over Japan. A good insight into the savage treatment of pilots. [See our review]

The 13th Mission: Saga of a POW at Omori - Robt R Martindale's detailed memoir; B-24 shot down in Bismark Sea. Not reviewed
---