---

Photographs:
Three photos
Courtesy of the Australian War Memorial:


Australian 8th Division POW group

: Notogawa Camp, Osaka, Japan. 1945. Australian prisoners of war (POWs) at the Notogawa POW camp after the Japanese surrender. These men of the 8th Division were captured when Singapore fell in 1942. Pictured, left to right, back row: Private (Pte) F. Wallwork of Billinudgel, NSW; Corporal (Cpl) A. J. Snell of Sydney, NSW; Pte C. W. Melrose of Wagga Wagga, NSW; Cpl R. Parker of Marrickville, NSW; Pte R. F. Pryor of Orange, NSW; Pte A. Ruman of Melbourne, Vic; Pte G. Thomas of Barellan, NSW. Middle: Cpl J. W. C. Lattimer of Kyogle, NSW; Pte D. A. McGowan of Grafton, NSW; Lieutenant K. W. Goddard of Dulwich Hill, NSW; Pte J. Taylor of Granville, NSW; Cple K. Sinclair of Armidale, NSW. Front: Pte L. G. Mountford of Wagga Wagga, NSW; Pte F. C. A. Nicholas of Hurlstone Park, NSW; Pte A. E. Olley of Lismore, NSW; Pte G. G. MacDonald of Hurstville, NSW; Pte H. W. West of Dee Why, NSW.

Australian 8th Division POWs

: Notogawa Camp, Osaka, Japan. September 1945. Australian prisoners of war (POWs) at the Notogawa POW camp. These men of the 8th Division were captured when Singapore fell in 1942. Pictured, left to right: Corporal D. McRae of Surrey Hills, Vic; Gunner A. Vokes of Brighton, Vic; Private (Pte) A. R. Murdoch of Malvern, Vic; Driver W. J. McCormack of Ivanhoe, Vic; Pte A. Whatley of Vic; Pte M. Webster of Fitzroy, Vic; Pte L. J. McRae of Chelsea, Vic.

Australian POWs

: Osaka, Japan. 1945. Australian prisoners of war (POWs) at the Notogawa Camp near Osaka after the Japanese surrender. The men, on their bunks suffered malnutrition and considerable loss of weight. Pictured, left to right: Private A. W. L. Park of Corrigin, WA; Gunner T. O'Mullane of Brighton-Le-Sands, NSW; Sapper E. V. Smith of Koondrook, Vic; and Private Power of Kyogle, NSW.

A. J. Snell

: Notogawa Camp. Portrait of Corporal A. J. Snell of Dulwich Hill, NSW, who served in Gallipoli in the Great War. He was a member of the 8th Division and was captured in Singapore on 15 February 1942. As a prisoner, he lost two stone in weight due to the meagre rations at the Notogawa prisoner of war (POW) Camp. He is sitting on his mat which served as a mattress for the POWs.

Homer Ellidge

: Notogawa Camp, Osaka, Japan. 1945. Prisoners of war (POWs) at the Notogawa POW camp survived by stealing food from the wharves where they worked. To smuggle necessities into the camp the men tied bags of rice and sugar around their limbs beneath their clothing. US Marine Homer E. Ellidge of Washington, demonstrates how it was done.

Nakanishi surrender to Goddard

: Notogawa Camp, Osaka, Japan. September 1945. Lieutenant K. Goddard of Dulwich Hill, Sydney, NSW, waited over three and a half years for this moment. Second Lieutenant Nakanishi formerly Commandant of this prisoner of war (POW) camp surrenders his sword (and command) to Lieutenant Goddard who was captured at Singapore. Before the war he played Rugby League for Newtown in Sydney.
---

Article on John Podlesny (article and photo courtesy of Jeff Hershberger)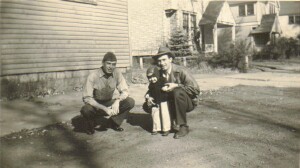 From the

Ashland Daily Press

(Wisconsin) around 1978 (citing an article originally written in 1945)

Podlesny a prisoner during entire war
By John Chapple

"Dear Mom: This is the first time that I have had the opportunity to write just what I want too...See you soon, Love, John."

The "John" who wrote the above was John Podlesny, who spent the entire time of World War II from three days after Pearl Harbor till VJ Day as a prisoner of war - an astounding record.

John Podlesny was captured [sic] the island of Guam three days after Pearl Harbor day, on Dec. 10, 1941. He was still a prisoner until the Japanese surrendered on August 14, 1945 - 33 years ago.

At last, on September 13, 1945, he was able to write his "Mom" - Mrs. Mary Ropiak of Ashland.

His mother had not heard a word about him of any kind since the preceding Christmas, nine months before. When the war ended, the man who had been a prisoner since the war began nearly four years before, was writing his "Mom" on a U.S. battleship [sic] enroute from Japan to Guam - Podlesny's first journey on the way back home to Ashland.

The Daily Press World War edition has a special article about Podlesny's long, long imprisonment. The article was written by Ann Hogan Pool, now Mrs. John Moran, who at that time was city editor of the Daily Press.

Here is the story:

"Shaking hands first with his brother, George, Corporal John Podlesny, first of the ex-Japanese prisoners to arrive in Ashland, and a veteran of the Marine Corps for nearly 10 years, stepped off the train at the North Western depot this morning with his mother, Mrs. Mary Ropiak.

"Overcome with joy, Mrs. Ropiak couldn't help but shed a few tears at the sight of her two sons meeting each other.

"As John walked into the home of his brother, George, at 712 Second Avenue West, he was overheard telling his sister-in-law that he was "more than glad to be home."

During the interview with the Ashland war prisoner, Podlesny said: 'I never gave up hope of coming home because during all the time I had to think, I thought of all the things I might have done while I was here, and decided I just had to get back and do them. I also thought of all the good food that I had had the opportunity to eat while in the states, and while I was a prisoner the thought of all that food came back to me, and I decided I couldn't pass up the chance to eat some good American food again - so here I am'. In the days before the war, Podlesny attended and graduated from DePadua High School.

Following his graduation from high school he was employed at the Employment office in Ashland.

One year after graduation from high school he enlisted in the U.S. Marine Corps. That was in March, 1936, five years before Pearl Harbor marked the commencement of World War II for the United States. He trained at Parris Island, S.C., and was stationed at various places throughout the United States, prior to leaving for China. He was stationed in China at the time the Japanese declared war on the Chinese. Corporal Podlesny served as a guard in that area for two years.

At the end of his four years of service he was sent back to the United States and received a discharge from the Marine Corps in 1940. At the time of his discharge he re-enlisted in the Marine Corps Reserve. He was called to active duty eight months later. He received more training at Great Lakes, following which he was sent to San Diego and then overseas to the island of Guam.

Arriving at Guam in May, 1941, he was serving on the Marine Corps police force until captured only three days after the United States declared war on Japan, December 10, 1941.

Taken prisoner upon the invasion of Guam by the Japanese with approximately 400 other people, he remained on Guam for one month.

Telling of his capture, Podlesny said: "Of the 400 who were captured at that time, 300 were servicemen, 100 were civilian contractors, and there were also five U.S. Navy nurses. We stayed on Guam for about one month, and while at that camp we received only two very slim meals a day - a sort of slum gullion affair consisting of just enough meat and potatoes to fill an ash tray. We were eating from the U.S. food supply at that time, and although there was plenty of food there, the Japanese kept most of it for their own use.

"After one month," Podlesny continued, "we were shipped to a camp at Zentsuji. We went from Guam to Zentsuji on a very large vessel [the Argentina Maru]. Of course we were put in the compartment at the very bottom of the ship. While on this ship we received only two meals a day, consisting of rice. It took us three days and four nights to get from Guam. The camp was an old run-down Army base, and although the barracks were livable, one might compare them with our stables."

Corporal Podlesny explained that sometimes they received two meals a day, and sometimes three, but more often only two. Explaining the food at Zentsuji he said: "Our breakfast was rice and very watery soup. We received one loaf of bread a day, and at noon we got only the watery soup. The soup was only boiled water, with carrots and radish in it, and on such a small diet, malnutrition started among the en, and it was almost impossible to work on such food.

"After two months we were put to work digging rocks out of the side of a hill that was to be used for rice planting. After a period of six months on this island, we were split up, and taken to Osaka. While at this camp we did various jobs - one thing I did was to work in a steel mill. I worked there in the winter. In the summer time our sparse diet didn't bother us much because the heat didn't make us very hungry, but in the winter, with the heavy work, we really were starved.

I then got switched from the steel mill to stevadoring [sic], which consisted of loading and unloading ships carrying foodstuffs, and so forth. While on this job we were able to steal some of the foodstuffs for ourselves, which helped a lot.

In the middle of the day we were always given a rice ball - This is about the size of a baseball and this with the watery soup was our meal. The job of stevadoring [sic] stopped when U.S. planes started bombing, as the shipping was cut down and we were not needed. At that time we were split up again, and I left Osaka in May, 1945 and traveled to Neotagawa, about 60 miles from Osaka.

"I spent the rest of my days in a prison camp at Neotagawa. The work there was mainly agricultural work. It was worse than ever at this camp - beri beri [sic] prevailed from lack of food, and malnutrition was terrible. Many of my friends died from these two causes. Sanitation was awful, and the average weight of the men was 145 pounds. If we had had to stay there two months longer, there would have been only about 10 percent of the men left.

"Although we had an inkling that the war was over, the Japanese did not tell us until August 19 (Actual date of surrender was August 14, 1945).

"We had thought the war must be over because all of a sudden the Japanese started feeding us much better, and we were not forced to work at all.

"There were no air raids, so when the Japanese told us the war was over were not too surprised. We had been prisoners for so long that our minds were just numb to the idea of the war's ending.

"After several days the American planes began dropping foodstuffs, and the Japanese began helping to assist us.

"We were taken from our camp to Yokohama, where we were once again with our own troops. Leaving there September 15, we had an eight hour trip by plane to Guam. We were there one week, and our own forces treated us like kings. The American food tasted wonderful, but due to our weakened stomachs, we couldn't eat much. From Guam we were taken to Honolulu and then to San Francisco.

"The clothing we were wearing was Japanese issued. The pants were up to our knees and the jackets to our elbows. Then some Red Cross clothing came through and we were lucky enough to get some."

Podlesny said that in the first prison camp, two of the interpreters were brilliant - one had graduated from Oxford and the other from a college in California. Podlesny said that during his years of imprisonment he had received a total of only 10 letters.

"The prison barracks we slept in," Podlesny said "were approximately 20 by 60 feet. We slept on the floor, and each man had just enough room for himself. A Japanese 'pillow,' which is only a block of wood, was given each prisoner, but none of the prisoners used them. After we got callouses [sic] on our shoulders and hips from sleeping on the floor, we got used to it."

At the end of his 90 day leave home at Ashland, Podlesny will report to Great Lakes and be honorably discharged from the Marine Corps. - (Daily Press edition of Oct. 13, 1945).

John Podlesny, retired, lives at the Wilmarth Block opposite the Court House.