The Sheboygan Press
Friday, January 28, 1944

JAP ATROCITIES
AROUSE NATION
Tell Jap Torture Of Yank Philippine Captives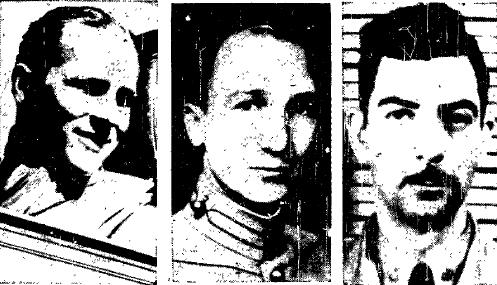 Detailed account of how starvation, thirst and torture inflicted by Japs have taken at least 5,200 American lives on the Philippines has been released by the War and Navy departments, based on sworn statements of three escaped officers: Lt. Col. William E. Dyess (left) who has since been killed in a plane crash; Lt. Col. S. M. Mellnik, and Comdr. Melvyn H. McCoy. -- (NEA Telephoto).


---
Abandon Hope Of Getting Aid To Prisoners
Blow Tokyo Into Hades, Cries Congressman, After Reading Factual Account Of How Americans Of Bataan And Corregidor Have Been Tortured And Slain By Japs

---
Washington. --(UP)-- This government, outraged by Japanese extermination of at least 7,000 American war prisoners, has given up hope of getting relief supplies to surviving prisoners of war in Japanese hands, the White House said today.
The documented story of Japanese brutality toward war prisoners in the Philippines was published by the army and navy last night. Today White House secretary Stephen T. Early explained the timing of the release.
"The time has come," he told reporters, "to release factual, carefully authenticated reports on Japanese atrocities. The government can no longer expect to get further relief to American prisoners of war in the hands of the Japanese."
The army-navy report, based on sworn statements of two army officers and a navy officer who escaped from Davao after 361 days of suffering, dealt only with Japanese treatment of prisoners captures at Bataan and Corregidor. It was a story of deliberate starvation, torture, and murder. Early's statement appeared to indicate that additional reports detailing similar horrors in other areas might be forthcoming later.
Further Exchanges Doubtful
Earlys statement, which followed close on congressional demands for ultimate vengeance against the Japanese, also caused speculation that there may be no further exchanges of civilian internees between this country and Japan.
It was pointed out that in the past supplies of medicine, clothing, and food for war prisoners twice were sent to Japan aboard the exchange ship Gripsholm. This avenue of relief, in view of Early's statement, apparently has been closed.
The state department for some time had been attempting to make arrangements for a third Gripsholm exchange, but Secretary of State Cordell Hull recently disclosed there had been little progress.
In any event, the army-navy report left no doubt that the Japanese government had brutally discarded all civilized rules in the treatment of prisoners captured in the Philippines.
The story aroused congressmen and government official alike to deep anger which, many of them declared, can be quenched only by the visiting of retributive justice -- if not now, after the war -- against responsible Japanese from the Emperor down.
There was little demand, however, for an eye-for-an-eye policy toward Japanese in American hands. As of Jan. 7, the War department said only 377 Japanese fighting men had been taken prisoner since the start of the war. Indicative of American treatment of war prisoners is the fact that none of the 377 Japanese prisoners has died.
Steam Right Into Tokyo
Chairman Andrew J. May, D. Ky., of the house of military affairs committee, said, "We ought to quit fooling around with islands and outposts and steam right into Tokyo and blow it to Hades. This shows the kind of barbarian enemy we are fighting."
Rep. Clair Engle, D. Calif., said the disclosures confirm the opinion of the west coast residents that Japanese "are nothing but a savage, uncivilized people and not just 'sunburned Yankees'."
"I am glad the army and navy have finally seen fit to let the American people know what type of enemy they are fighting so we get down to business and get this thing over with," Engle added.
New Zealand Minister Walter Nash communicated with Hull after reading the atrocity report. Later he told reporters:
"It is one of the cruelest things I have ever heard of in history."
A similar reaction was voiced by Sen. Charles O. Andrews D. Fla., who said:
"It's the most gruesome thing I can imagine. It makes even more certain that we must fight this was to the finish. Japan will have to understand that to live in this world it will have to live up to accepted standards of civilization, in war and peace."
Sen. Warren R. Austin R. Vt., called for "that extra effort necessary to get our boys out of prison as quickly as possible."
Sen. Edwin C. Johnson D. Co., hoped "this will not be a springboard for a wave of racial uprisings" against the thousands of civilian Japanese in this country.
In Denver, all military and civil police were placed on alert to prevent any
demonstrations against the large number of persons of Japanese ancestry in that area.
The three escaped prisoners who brought back the report of beatings, starvation, outright murder, forced labor, and death marches from the Philippines were Comdr. Melvin H. McCoy of Indianapolis, now on duty in this country; Lieut. Col. S. M. Mellnik of Dunmore, Pa., now on duty in the SW Pacific, and the late Lieut. Col. William E. Dyess of Albany, Tex., recently killed in a fighter plane at Burbank, Calif.
In Seattle, McCoy announced that he has "work to do yet in the Philippines" and wants to go back there "to square accounts" with the Japanese. Mellnik is already getting back at the enemy as an artillery officer under Gen. Douglas MacArthur.
The report added a new ugly chapter to the story of Japanese atrocities made so clear when the Tokyo government, again in complete violation of accepted rules of war, executed some of the captured American flyers who took part in the historic April 1942, raids on Japans principle cities.
In connection with those executions, President Roosevelt sent a stern warning to Japan. He said that if "such acts of barbarity and manifestations of depravity" were continued, '"the American government will hold personally and officially responsible for those deliberate crimes all of those officers of the Japanese government who have participated in their commitment and will in due course bring these officers to justice."
The report disclosed these facts;
Denied Food For Full Week
At Camp O'Donnell, about 2,200 American prisoners from Bataan died during April and May of 1942. The death rate among Filipino prisoners was higher. By October, another 3,000 Americans had died at Cabanatuan and 2,500 others were in such condition that American doctors were certain all would die.
Thus, of the approximately 20,000 American fighting men in the Philippines when the end came, at least 7,700 were dead or dying by October of 1942. How many more have died since then is a problem almost to grisly to consider, for the death toll on some occasions reached 50 a day.
For a full week after the American defenders of Corregidor had surrendered, they were denied food. Then they received meager portions office and sardines.
Many technical men -- at least 400 and possibly 1400 -- were shipped off to Japan for slave labor in war factories in complete defiance of the Geneva Convention on Prisoner treatment to which Japan claimed she is abiding.
At least three Americans and three Filipinos were buried alive, others were beheaded.
Many were given the sun-treatment, a form of torture in which they were forced to remain under the blistering sun with no covering.
A nightmarish memory to the men who escaped was what he prisoners called the "march of death." With no food, water or shelter from the sun, they were forced to make a 12-day march for 85 miles to work in labor battalions.
Herded Like Cattle
Those who fell screaming in agony of approaching death were beaten with sticks, whipped or shot if they dared ask for food or water. Some were run over by Japanese trucks -- deliberately.
Men who once weighed 200 pounds shrank to 90, became human skeletons, and died by the hundreds. Diarrhea and dysentery almost universal, as was beri-beri.
Because they asked for water, six Filipinos were shot, one was disemboweled and others were bayoneted.
Those who survived the bestiality were herded like cattle into small enclosures, which reeked with the stench from the decaying bodies of men whom they once knew.
In contrast to the staggering death toll described by the three officers, the Japanese have reported only 1,555 Americans as having died from disease in the camps in the Philippines.
The army and navy made it clear that nothing in the report was hearsay -- that it contained "only facts which the officers related from their own personal experience and observations."
The three officers were Comdr. Melvyn H. McCoy, U. N. N., Indianapolis, now on duty in this country; Lt. Col. S.M. Mellnik, coast artillery, Dunmore, PA., now on duty in the southwest Pacific, and the late Lt. Col. (then captain) William E. Dyess, air corps, Albany, TX., who was killed recently in the crash of a fighter plane in Burbank, Cal.
At Camp O'Donnell prisoners had to stand in line 6 to 10 hours for a drink. They wore the same clothing without change for six weeks. Food was almost entirely rice. Twice in two months they received enough meat so that about a quarter of the prisoners managed to get a piece of an inch square each. They received a few vegetables on three of four occasions.
The Japanese worked many prisoners to death. One week the death rate at Camp O'Donnell was 20 Americans and 150 Filipinos a day. After two weeks it was 50 Americans and 500 Filipinos a day.
Prisoners taken on Corregidor, including McCoy and Mellnik, were concentrated in a paved square about 100 yards on each side for a week. They numbered 7,000 Americans and 5,000 Filipinos. There was one water spigot. It usually was a 12-hour wait to fill a canteen.
On May 23, 1942, these 12,000 prisoners were transported to Manila by barge, forced to jump off and wade for about 100 yards, and then marched through Manila in what was intended to be a triumphal victory parade. But Filipinos citizens everywhere demonstrated their friendliness. Those who tried to assist collapsing prisoners with ices, water and fruit were beaten.
About June 1 American prisoners at camp O'Donnell were separated from their Filipino comrades and moved to Cabanatuan concentration camp, where the three officers met. There conditions slightly improved. There was adequate drinking water and muddy well water in which to bathe. But the food continued mostly rice.
Three Chickens For 500
Once the Japanese gave the prisoners three chickens and another time 50 eggs for 500 prisoners. Then their propaganda machine announced to the world they were feeding American prisoners eggs and chickens.
At Cabanatuan three officers were caught trying to escape. They were beaten until they could no longer stand.
"The next morning the three Americans, stripped to their shorts," the report related, ''were taken out on the road in full view of the camp, their hands were tied behind them, and they were pulled up by ropes from an overhead purchase, so that they had to remain standing, but bent forward to ease the pressure on their arms.
"They were kept in this position in the blazing sun for two full days. Periodically the Japanese beat them with a two-by-four, and any Filipino unlucky enough to pass that way was compelled to beat them too. If he failed to beat them hard enough the Japanese beat him. After two days of this, one of the officers was beheaded and the other two were shot."
On October 26, 1942, McCoy, Mellnik and Dyess, with 966 other American officers and enlisted men were crowded into a captured British freighter and taken to Davao penal colony. This time those who fell out were thrown in trucks and hauled along. Food was somewhat better, but insufficiently balanced to counter act the beri-beri from which many prisoners were suffering. Oranges and lemons were abundant thereabouts, but the Japanese would not allow the prisoners to have any.
The commandant of the camp spoke to the prisoners thus:
"You have been used to a soft, easy life since your capture. All that will be different here. You will learn about hard labor. Every prisoner will continue to work until he is actually hospitalized. Punishment for malingering will be severe."
He made good on his word. When the three officers escaped from Davao April 4, 1943 only 1,100 of the 2,000 prisoners were able to work.
The officers reported the few Red Cross boxes that reached the men caused joy beyond description. For some unknown reason they were delayed seven months in Japan proper.
For all his labor during 361 days of captivity Dyess received $10 dollars in pay after he signed a statement saying he had received more than $250, as well as clothes, food and lodging.
The army and navy disclosed that other Americans are known to have escaped from Japanese camps in the Philippines, including Major Michiel Dobervitch, Ironton, Minn.,: Major Austin C. Shofner, Shelbyville, Tenn., Major Jack Hawkins, Roxton, Tex., Cpl. Reid Carlos Chamberlain, El Cajone, Cal., all U.S. Marines.
---
Wants To Square Accounts
Seattle,Wash. --(UP)-- Comdr. Melvyn H. McCoy, one of the three officers who made the report on atrocities in Japanese prison camps in the Philippines said today he has, '''work to do yet back in the Philippines" and wants to return "to square accounts" with the Nipponese.
McCoy, who celebrated Christmas day 1941 by escaping from the Japanese to Corregidor and eating a ham sandwich for "Christmas dinner," is now in command of radio activities at the naval station on Bainbridge Island, across Elliott Bay from Seattle.
The 37-year-old commander came here last November, a few months after his arrival in the United States following his escape from the Japanese prison camp.
McCoy was graduated from the U.S. Naval Academy in 1927 and went to the Philippines in July 1940. He was stationed at Cavite, his wife and two children returned to the United States in December of that year and he did not see them again until August 1943.
He served as communication officer during the siege of Corregidor and was forced to send the final message marking the fall of that island May 6, 1942.
"Going off the air now, goodbye and good luck. McCoy," the message said.
"Then," he said, ''the Japs got hold of me."
His experiences from that day until his escape April 4, 1943, were revealed in the army navy story of Japanese atrocities.
After his return McCoy remained in Washington, D.C., until ordered to Bainbridge Island last fall. He said he hoped to go on active duty again this year.
---
Denver. --(UP)-- All military and civilian police in the Denver were placed on alert today to prevent any demonstration against the large number of persons of Japanese ancestry in this area following the announcement of Japanese atrocities in the Philippines.
Lt. Col. Jesse E. Marshall, district commander for internal security, said the action was taken on orders from the Seventh Service Command as "a precautionary measure."
Two special squads of detectives were assigned to patrol the lower downtown area of Denver and military police reinforcements were ordered held in readiness Marshall said.
---

(For the original report on this story of the escape of 10 POWs from Davao Penal Colony, see Ten Escape From Tojo by Cmdr. McCoy and Lt. Col. Mellnik.)

---
---
The Sheboygan Press
Sunday, January 30, 1944

Writer Bares More
Jap Atrocities
by James R. Young