Kawasaki #1 POW Branch Camp
Tokyo 1-B
KAWASAKI-shi, OSHIMA-machi
Satellite map
Area map
Aerial photo (Feb. 1946; courtesy of Japan Map Archive)



Camp History:


24 Aug 1942: Camp established as KAWASAKI PROVISIONAL POW CAMP (KARI SHUYOSHO) (NIPPON TSUUN [Japan Transport Nittsu])
July 1945: Unknown number of men moved north to Tokyo #8 Branch (Hitachi) Motoyama.
25 Sep 1942: Renamed TOKYO POW CAMP No. 1-B
Sep 1945: Rescue effected
---

Excellent narrative and camp experience of David Wilson, British sailor on the SS

Willesden

, sunk by German raider

Regensburg

. Turned over to Japanese at Yokohama on 7 Jul 1942. Interned at the Kawasaki #1 POW Camp.

Includes picture of camp buildings during war and post war aerial from fighter plane.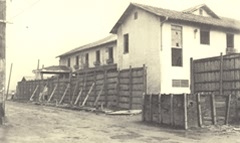 Aerial photo (courtesy of National Naval Aviation Museum)
Additional aerial 1 - aerial 2 (courtesy of POW Research Network Japan)

---

MacArthur Report: Located at 35.31'N-139.42"E, 21 US out of 400 prisoners. Camp has 30 barracks and is located 2½ miles from Odacho station (RG 331).

Synopsis of Tokyo #1-B (in Japanese; courtesy of POW Research Network Japan)

Primary Labor Use:
Slave labor in Kawasaki ship yard
---

Hell Ships:
Kamakura Maru- unknown number of Australians on board

---

Roster:
Recreated American roster based upon handwritten roster April 1944.
Rosters (RG 407 Box 115) - American, Dutch, British, Norwegian, Irish, Canadian, South African, Australian, Estonian, Chinese, British Indian and New Zealanders; includes data on Shinagawa Hospital. Some rosters separate POWs by nationality, others list them mixed together. Details of previous camps provided on some rosters.

Deceased Roster:
Combined death roster of Tokyo #1 and #2 Camps
Death rosters for all Tokyo camps

Misc. rosters and documents for Tokyo camps (RG 407) - TXT file of contents

---



Recovery Team Report:

Kawasaki #1 Camp by 2nd Lt Robert Dolder, leader of Recovery Team #56

---

Japanese Camp Staff:
A complete list of Japanese staff at date of surrender.

---

Diary of Dorsey Walker-Guam Navy man- excellent daily log from 1943 to end of war- vivid description of air raids in area.
Memoir from Bob Denmark, a gunner on the SS Kirkpool said 18 naval and five military personnel on board the Kirkpool were taken to Kawasaki #1 in Tokyo. (Civilians mostly sent to Fukushima). Kirkpool and Nankin sunk by German raider Thor.
BOGLE, Robert E., Sub/Lt., R.N.V.R., of the Nankin, was taken to Zentsuji.
Bernice Clifford ("BC") Hart - Diary and assorted letters (courtesy of James Hart)

---

Known Information: E-mails from researcher Mark Derby in New Zealand and Chris Best in England.