Location:


MIYAGI-ken, KURIHARA-gun, UGUISUSAWA-mura



Short History:


1 Dec 1944: Established as Tokyo 3-B
28 Jan 1945: Approx 250 Americans, 50 British and 3 civilians arrive ex Enoshima Maru ex Taiwan
14 Apr 1945: Jurisdictional control transferred from TOKYO POW CAMP (3-B) to SENDAI POW CAMP. Established as Sendai 3-B.
12 Sept 1945: Rescue effected

Satellite view


---

Japanese Staff:
Lt. Katsuo Ishizawa - Camp Commander
Sgt. Tasobei Chonan - somewhat lenient
Sgt. Kunpei Shimizu
Lt. Koiwa - interpreter
Yunosuke Iwabuchi - guard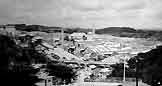 During wartime - date unknown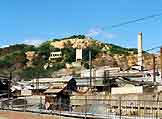 Mine - 2003
---
Camp Layout:

Camp Buildings:
Barracks contained double deck sleeping areas. Standard clapboard exteriors with no heat and no insulation. Tables in center were used for eating when food was brought from the cook shed. Only three barracks used. Buildings on south end used mostly for storage and one used as a sick bay.
Japanese guard barracks also served as Administrative HQ for a number of camps in the area.
---

Books:
Gaskill, Robert C., Guests of the Son of Heaven, New York, 1976 - not reviewed; Camp doctor

Tony Czerwein, POW Tears That Never Dry,

Publisher: Library Research Associates Inc (1994)

Harry Franz,

Bamboo Treadmill

(online book)

Overview:
Hosokura mine was owned and operated by Mitsubishi Mining Co, (MITSUBISHI KOGYO HOSOKURA KOZAN) during WWII. Enslaved by Mitsubishi were 231 American POWs and 3 civilian Americans plus some 50 British who were forced to mine and produce lead and zinc.

The mine was closed in 1987 and is now a theme park (Hosokura Mine Park) where visitors can walk through its major tunnel. Here and there are life-size mannequins of mine workers. (attached photo)
There are explanation boards throughout the tunnel, but the wartime use of Allied POWs or Korean workers is never mentioned. (Mine Entrance- 2003) - Images courtesy of Kinue Tokudome



Short History of Arrival:


Departing Moji by train, about a dozen men were removed in Osaka area for hospitalization. Upon arrival in Sendai, changed to a narrow gage railway high into the mountains. From the Uguisusawa RR Station, the men were required to walk last few miles through deep snow.

Hellships:
Enoshima Maru from Taiwan
Most Americans had earlier been taken to Taiwan on the Hokusen Maru
---

Rescue Video: View this unedited motion picture of the rescue at this camp (425Mb MP4 file), along with interviews of four men -- Zimmerman, Aubuchon, Benini, Gaskill.


On-screen counter:
01:02 ~ 02:21 Sendai Camp #4 scenes (9/11/45)
02:22 ~ 08:59 Sendai Camp #3 scenes (9/12/45)
09:00 ~ 11:12 Gen. Wedemeyer arrival at Nanking air field
11:13 ~ 12:21 Japanese soldiers embarking on ship
12:22 ~ 13:29 "Japs being disarmed"
13:30 ~ 14:11 Japanese leaving camp
14:12 ~ 14:33 Omori camp
14:34 ~ 16:29 "Yokohama Prison" and "war criminals" (10/5/45)
16:30 ~ 17:40 "Stockade #2, Omori POW Camp"
Video player counter:
Interviews with sound
17:00 Zimmerman
19:45 Aubuchon
22:52 Benini
25:18 ~ 26:00 Gaskill
Total length of film = 27:46 (last 2 min. blank)

NOTE:

This video is no longer available on the website due to size constraints. It is now available for viewing here. Let us know if you would like the full video.

---

Rosters:
Americans (with one possible Dutch)
British
All men arrived January 1945 on the Ennoshima Maru via Formosa and Moji. Mr. Louis B. Read submitted a partial roster and Ernest Bales submitted the Chaplain's roster.
Download Roster Spreadsheet (xls); contains additional information.

Roster Aug. 15, 1945 (RG 389 Box 2070)
Liberation roster with NOK (RG 389 Box 2071) - US, British, Dutch

---

Ross Report: Describes trip to the camp from departure in Manila

Affidavit: Alonzo C. Meredith's story from capture on Corregidor until rescue in 1945.

Memoir: Alonzo C. Meredith's story entitled "A Long Trip". Relates story of hell ship, work on Taiwan and Sendai #3.

Rescue: Three (3) POWS killed by air drops of food. Rescue effected 15 Sept 45. One British (Ward, D.) and two Americans, Carl Burk Gann and Orrin E. Crandell, 45.8.22. One American (Anderson) died on a rescue ship en route home.

Henry Farr deposition (JPG, courtesy of Teancum Keele) - CPNAB employee, was working on constructing tunnels for Navy on Corregidor when captured (Note: reported to Les Schwab, Master Mechanic, on Bataan).