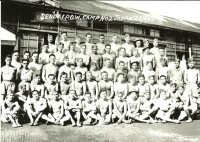 Group photo taken shortly before repatriation was my dad,
3rd row 9th from the left (with the hat).
C. E. Rocha, on his right, later to be my uncle, F.L Rocha.
Front row, 4th from the left, also later to be my uncle, E. S Marques.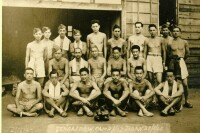 Front row: 4th from left C. E. Rocha, 5th from left F. L. Rocha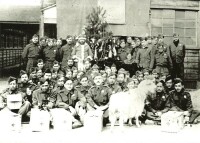 Christmas – year ????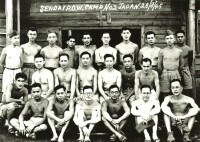 Hong Kong Volunteers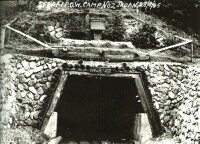 Entrance to coal face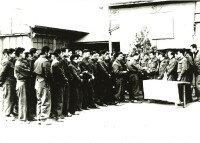 Christmas, staged managed scene for the Red Cross, year ????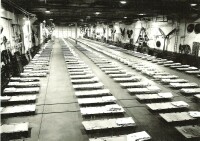 Improvised dormitory in hangar of
HMS Colossus

bound for Manila for R&R before repatriation to Hong Kong
---
"Iwaki Coal Mine Camp" photo dated August 28, 1945, courtesy of Peter Somerville, whose father was a naval aviator during WWII flying Helldivers off the
USS Hancock
. "Planes from the Hancock were sent on missions to locate and drop supplies to POW camps before they were liberated on the ground."