Sendai #11-B
(NIPPON KOGYO) [Open Pit Iron Mine]
AOMORI-ken, KAMIKITA-gun, TEMMA-BAYASHI-mura
TEMMAKAN, AZA MINAMI-TEMMAKAN, 1-BANCHI
Satellite view
Area map (noted as Temmakan #11 camp)

---

Time Line:
4 July 1945: Established as Sendai #11
Sep 1945: POWs move to Sendai City and rescued
---

Japanese Staff:
2nd Lt. Uozumi was camp commandant. On 8 Aug. 1945 this officer is reported to have committed suicide. He was succeeded by Sgt Maj. Subano, a sadistic soldier who enjoyed beating and torturing the POWs.
---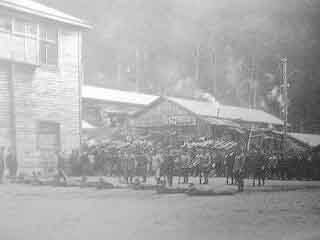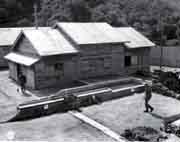 Bathouse at Sendai #11 (more images)
---



Japanese sites regarding this camp:


Wikipedia
Kamikita ruins

Web sites commemorating the camp:

Interesting site from a man who ventured inside the old mine -- just click on the large font link at very bottom of each page to go on to next one.

---
Paul Stevens (civilian, Wake CPNAB):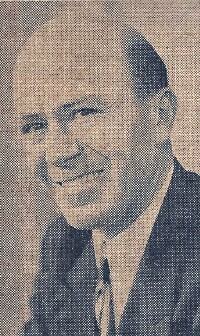 Stevens Collection (courtesy of Valerie Jones)
- A newspaper article Paul was pretty proud of. He has several copies of it throughout his scrap book.
- A notebook excerpt
- A souvenir menu for the Christmas dinner they never got to eat. Among other things, Paul was a chef and he collected menus throughout his travels.
- The "certificate of barber" his fellow POWs made for him. Paul was chosen by the Japanese to be a barber because he was older. He always thought that was funny because he was mostly bald. Three of his fellow POWS made this certificate for him. They signed the bottom, so maybe some of their relatives would see it here.
- A letter from his mother notifying others of Paul's liberation.

Labor:
Slave labor for Nippon Mining Co.

Hell Ship:
Technically not applicable but most were from Wake Island and had been sent to China (Woosung) on the Nitta Maru in January 1942.

History of Founder:
Yoshisuke Aikawa: Interesting history with link to company connection to Nissan Motors of today. Convicted as war criminal but later elected to House of Councilors in 1953.
---

Gibbs Report:
Details of camp history as prepared from reports by Doctor William Foley, Cmdr, USN (MC)
---

Roster:
Camp Roster
Source: NARA RG 407 Boxes 11 & 12
The first (and apparently only) occupants of this camp was a detail of 198 American prisoners from Fengtai, China [arriving] 4 July 1945. The personnel is classified as follows: Army 4, Navy 1, Marines 7, Civilians 186. The civilians were captured on Wake Island and among them were a few Pan-American mess boys. The only officer in this contingent was Cmdr William Foley, U.S. Navy Medical Corps. [China Marines Medical Detach]

Roster Aug. 15, 1945 (RG 389 Box 2070)
Original roster with NOK (RG 389 Box 2071) - US only

Roster CSV file: includes more info on each POW including prior POW #, current POW #, and home town. Index number for position of rosters located. Download link

---

Books about this camp:
Abraham, Theodore A., "Do You Understand? Huh? A POW's Lament"; Sunflower Press 1992
Abraham, a civilian captured on Wake Island- not reviewed
---