Sendai #11-B
(NIPPON KOGYO) [Open Pit Iron Mine]
AOMORI-ken, KAMIKITA-gun, TEMMA-BAYASHI-mura
TEMMAKAN, AZA MINAMI-TEMMAKAN, 1-BANCHI
Satellite view
Area map (noted as Temmakan #11 camp)

---

Time Line:
4 July 1945: Established as Sendai #11
Sep 1945: POWs move to Sendai City and rescued
---

Japanese Staff:
2nd Lt. Uozumi was camp commandant. On 8 Aug. 1945 this officer is reported to have committed suicide. He was succeeded by Sgt Maj. Subano, a sadistic soldier who enjoyed beating and torturing the POWs.
---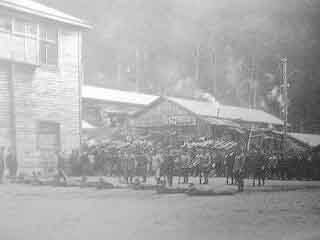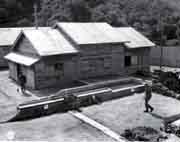 Bathouse at Sendai #11 (more images)
---



Japanese sites regarding this camp:


Wikipedia
Kamikita ruins

Web sites commemorating the camp:

Interesting site here from a man who ventured inside the old mine -- just click on the large font link at very bottom of each page to go on to next one.
Labor:
Slave labor for Nippon Mining

Hell Ship:
Technically not applicable but most were from Wake Island and had been sent to China (Woosung) on the Nitta Maru in January 1942.

History of Founder:
Yoshisuke Aikawa: Interesting history with link to company connection to Nissan Motors of today. Convicted as war criminal but later elected to House of Councilors in 1953.
---

Gibbs Report:
Details of camp history as prepared from reports by Doctor William Foley, Cmdr, USN (MC)
---

Roster:
Camp Roster
Source: NARA RG 407 Boxes 11 & 12
The first (and apparently only) occupants of this camp was a detail of 198 American prisoners from Fengtai, China [arriving] 4 July 1945. The personnel is classified as follows: Army 4, Navy 1, Marines 7, Civilians 186. The civilians were captured on Wake Island and among them were a few Pan-American mess boys. The only officer in this contingent was Cmdr William Foley, U.S. Navy Medical Corps. [China Marines Medical Detach]

Original roster with NOK (PDF; RG 389 Box 2071) - US only

Roster CSV file: includes more info on each POW including prior POW #, current POW #, and home town. Index number for position of rosters located. Download link

---

Books about this camp:
Abraham, Theodore A., "Do You Understand? Huh? A POW's Lament"; Sunflower Press 1992
Abraham, a civilian captured on Wake Island- not reviewed
---