Osaka 18-B Wakinohama
(KAWASAKI SEITETSU)
Kobe-shi, Fukiai-ku, Wakinohama-machi 3-chome

Timeline:
1 Feb 1945: Established as Osaka 18B
21 May 1945: Camp closed
POWs transferred to:
25-B MAIBARA
MAIBARA-machi, UMEGAHARA
Aug 1945: Renamed Osaka 10B-Maibara
Sept 1945: Rescue effected
Satellite map

---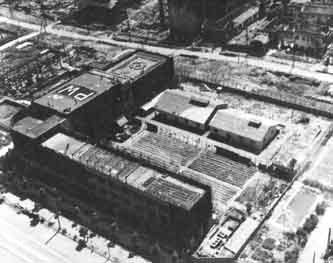 Additional photo showing camp from air

(Original full scan)

Wakinohama flag detail on building roof

History:
It is evident that some more POWS were transferred to Wakinohama and remained there until the surrender.
---

Hell Ships:
Initial group arrived from Taiwan on the Melbourne Maru. Most had earlier been sent from Manila to Taiwan on the Hokusen (Haro) Maru in early October

Picture donated by Jon B. Haugdahl

Books Describing Life at Wakinohama:
Courage on Bataan and Beyond- a well done description of the experience of Abel F. Ortega, 192nd Tank Btln. Excellent selection of photos and the experience of the Death March, O'Donnell, Camp Murphy and hell ships to Japan and final days at Maibara.

---

Known American Deaths:
Name, Rank, ASN, Service, Unit, Date of death,Cause
SEEWER, Glen Russell,PVT,290945,MAR,4th K,45.04.10,asthma
STANDRIDGE, William,SGT,6363738,QMC,,45.02.15,Acute Pneumonia
WOLFF, Clarence,CPL,19019500,CAC,60th D,45.03.21,acute enteritis
WELCH, Herman L,PFC,19014524,CAC,59th Hq,45.03.01,Chronic enteritis

Known Dutch Death:
Wassink, Jan Cornelis, Corp, 4528. 45.03.18 from heart failure (beri beri)

Death rosters for all Osaka camps