Horoshima 6D MOTOYAMA
YAMAGUCHI-ken, ONODA-shi
26 Nov 1942: Established as YAHATA Provisional POW CAMP UBE Branch?
Camp MOTOYAMA Detached Camp.
1 Jan 1943: Renamed FUKUOKA POW CAMP UBE Branch? Camp MOTOYAMA Detached Camp
1 Mar 1943: Renamed Fukuoka 8-B
1 Dec 1943: Renamed Fukuoka 3-D
Jul 1944: Moved, new location unknown
14 Apr 1945: Jurisdictional control transferred to HIROSHIMA POW CAMP 6-D
Aug 1945: Renamed Hiroshima 8B
Sep 1945: Rescue effected
---

Aerial Map- show relative position to Ohama and Okinoyama camps
Relief Map Satellite-Google Maps
Special Thanks for all of the above: to Wes Injerd, historian for the Fukuoka Camps
---

Camp Report: Extract of the Lt Rogers Investigation Report of Dec 1945. Short summary of camp history.
Labor: Coal Mine

Hellship: Primary hellship was the Singapore Maru. (see below)
---

Known History:
Based upon the books by Meg Parkes, the story of her father Atholl Duncan:
Approximately 200 British were transported from Java on the "Singapore Maru" via Singapore, Formosa and Moji, arriving in the camp on 28 Nov 1942. 60 men died on the way and 350 were left on the Moji docks, most dying in the Moji hospital within the next month. By 18 Dec 1942, six more died in this camp. The men on this ship were spread over camps in Ube, Motoyama, Ohama and Higashi Misome. Known dead include Frow, Barnley and Hunt.

Rosters:
Partial British roster based upon photographs in NARA. Scans available- ask.
Full Camp Roster - Excel (xls) file (117kb) contains Brits, Dutch & Yanks, additional information and deceased
Americans (Confirmed):
Bailey, Harvey E.,PFC,6943232,Ft Mills Hosp (Sternberg)
Bunk, Anthony J.,PFC,13004879,
Dorset, Virgil Jackson "Jack",Capt,O&049138,US Pub Health Svc
Mayfield, Jack,PFC,19052221,
Hulsey, Harmon A,PFC,18052438,
Mullender, Rex R.,PFC,17009694,Genl Hosp #2
Photographs: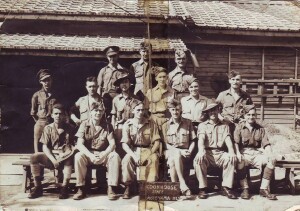 Cookhouse staff photo taken in 1945 at Motoyama

- courtesy of Jayne Leadbeater, whose grandfather, Joseph Briggs Leadbeater, can be seen in the middle row, far right: "He was a lovely man, died when I was only 3 or 4 (over 30 years ago), but I can remember climbing up on his bed and he would read to my sister and I stories he had written and share his sweets. He didn't talk much about the war so we know very little. My eyes are very much wide open to the experiences he must have gone through. I am so pleased I found your site. Thank you for sharing your information."