Photos courtesy of Fran de Groen:
HIR-06_buildings_Omine
HIR-06_barrack_buildings_Omine_Japan_1944-45
HIR-06_community_bath_Omine_Japan
HIR-06_deGroen_and_other_POWs_1945-08
"In this image, my father (Sgt Geoffrey de Groen, Pay Corps attached to 2/19Bn) is second from the left (with the moustache). I do not know the identity of the other men (some are clearly US Military Police - were these the ones called 'Bulls'?). Neither do I know where the photograph was taken. The POWs in Omine were taken to Nagasaki when the recovery teams finally found them. I suspect that this shot was probably taken in Nagasaki because of the MPs."
HIR-06_OmineCampStuff
Bill MacWhriter (ex-Omine POW) mailed these three items to me:
1. Chopsticks - used to eat food at Omine Camp (every POW had them).
2. Block of wood - the POWs had to carry these around with them at all times. If the Japanese guards found you without your block of wood, you would face the consequences (a beating).
3. Metal Tag - the men had to pin this to their uniforms when they were down in the mine.
---



Material courtesy of Terry Smyth

(see his Facebook page of 2010 trip to Omine camp site)



"My father was a gunner in the British 48th Light Anti Aircraft Regiment during WW2, for the most part of which he found himself undertaking slave labour in a Japanese coalmine... While in the camp, he made friends with three American servicemen: William F. Cowley, Russell W. Gerleman, and Leonard L. Rogers... On their last day of captivity, Leonard L. Rogers gave my father two drawings which I have treasured ever since. All three of his US friends wrote messages on the back of the drawing." ---Terry Smyth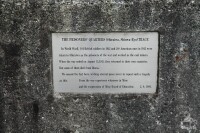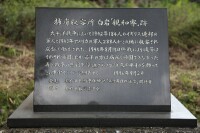 Memorial plaques at Omine site (English and Japanese) (
Japanese PDF
)
LEONARD ROGERS' DRAWINGS PRESENTED TO

EDWIN SMYTH AT THE END OF THE WAR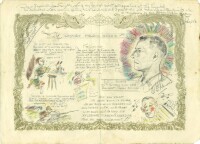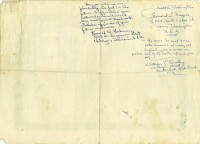 TEXT, FRONT:


Drawn especially for Smyth, who is my British artist colleague here at the hospital in Fukuoka -- It's nearing sailing time for home and I present this with best wishes and compliments as a memoir of our prison life in Japan.

L. L. Rogers

Sketched at Fukuoka Prison Camp, Sept 1, 1945.

The ARTIST FROM ESSEX

He left his signwriting business at Clacton-on-Sea Sept. 1939 for duty to his mother country.

Duty calls!

Served in England, Sumatra, and Java where he was captured by Japs -- in March 4, 1942

Come'n get me -- ya rats!

The Coal Mine

He was sent to Japan the province of Fukuoka on Island of Honshu. He worked for a time at mining coal but came down with dysentery and his ability as a sign painter landed him a special duty job in the prison camp.

[

Later, my father added the following words to the drawing: '6 weeks only. Back to mine'.

]

But now that it's over Edwin is anxious to get back to his business and his lovely wife and take life easy -- and to play the xylophone, piano and accordion for his own amusement!!

[

The very accurate profile portrait is captioned:

]

E. C. G. Smyth

95th Battery, L.A.A. 48th

Regiment – Royal Artillery.

[

and signed

]

L. L. Rogers, U.S. Marines.


TEXT, BACK:


May we continue our friendship via post in the future. I appreciated your cultural conversations very well turned brush work. "Thumbs up", in all of your future endeavors.
Russell W. Gerleman
Chicago, Illinois, U.S.A.

Leonard L. Rogers
Seattle, Washington
Tacoma, Washington
U.S.A.
~~~~
Be sure to send some little souvenir of merry old England, your business, or picture of the lovely wife and yourself.

William F. Cowley
Pawtucket, Rhode Island
U.S.A.






Scene in back area of camp – typical native hut and rice paddies

---- Inside looking Out ----

L.L. Rogers
U.S. Marines



TEXT, BACK:


Presented to Ed. Smyth, Sept 3 1945 -- 8.00A.M. (Japan Time)
First day of Occupation (officially) by Ally Troops.
We threw out the nip guards and Major Busby
took over the Jap Commandants desk at
Hdqrtrs. -- Pleasant Voyage Home.
~~~~~
L.L. Rogers
Tacoma, Washington