Hiroshima # 6B - Omine (Sanyo)
SANYO (UBE KYOGYO)
Location:
Omine-machi, Yamaguchi Prefecture (ken), Honshu.
CAUTION: Frequently confused with Omine, Fukuoka #5, also called Omine
Area Map Satellite

---

Timeline:
26 Nov 1942: Established as YAHATA Provisional POW CAMP UBE Branch Camp SANYO Detached Camp
1 Jan 1943: Renamed FUKUOKA POW CAMP UBE Branch Camp SANYO Detached Camp
1 Mar 1943: Renamed Fukuoka 6-B (Omine) [caution- this is NOT Fuk-06B-Mizumaki]
1 Dec 1943: Renamed Fukuoka 1-D
14 Apr 1945: Jurisdictional control transferred to Hiroshima POW Camp 4-D
Unk Date: Officers removed and sent to Sapporo Jail; returned after the surrender
Aug 1945: Renamed Hiroshima 6-B
15 Sep 1945: Rescue effected
---
Camp Overview
The Camp was located at 34.11'N-131.12'E and was described as follows: "Camp is located on a hillside in the Onoda Coal Mine area, NE of Ube. POW housed in two-storied wooden buildings."
Red Cross Report:
C.A. Kengelbacher report of April 13th, 1943 on camp conditions. Notes Swiss have not been contacted nor able to speak to POWS.

---

CAUTION: Fukuoka # 5B Camp on Kyushu - also known as "Omine" Camp. We do not (currently) have rosters of that camp.

---

Swiss Red Cross Report:
Report submitted by Mr. C.A. Kanglebacher, a known sympathizer to the Japanese. During his visit of 13 April 1943, he did NOT meet with any if the prisoners nor their representatives.
---
Labor:
Slave labor in coal mine.
Narrative as supplied by British historian Stephen Hagen.

---

Link to Taiwan POW Society News - Former POWs Revisit Omine Camp

Hell Ships:
British ex Singapore Maru; Americans on the Canadian Inventor; at least two American (2) medics on the Kenwa Maru. Those on the Canadian Inventor endured 62 days en route to Japan.

---

Rosters
Americans: erroneously and earlier posted as Fukuoka#5; includes the deceased.
British: (Rescue roster)
British Deceased
XLS- Spreadsheet contains additional information (268kb)
---

Men who were at this camp: (Simple web search)
Boyd, Herbert Lee Corporal, 19th Bomb Group, 93rd Bomb Squadron. Short narrative of his experience from Death MArch to Omine.
Turner, Gerald "Bud" - American, 4th Marines, Service Co.
---

Photographs
Hauser family pictures of camp: Excellent pictures on the Proviso High School POW Research site

click on photo for larger image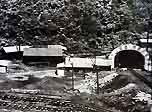 [External link to pictures - Very slow loading, even on DSL- EXCELLENT SITE!]
More Pictures- Japanese captions

Facebook page of 2010 trip to Omine camp site, courtesy of Terry Smyth, whose father "was a gunner in the British 48th Light Anti Aircraft Regiment during WW2, for the most part of which he found himself undertaking slave labour in a Japanese coalmine... While in the camp, he made friends with three American servicemen: William F. Cowley, Russell W. Gerleman, and Leonard L. Rogers... On their last day of captivity, Leonard L. Rogers gave my father two drawings which I have treasured ever since. All three of his US friends wrote messages on the back of the drawing."
---