Location:
5-B YOKKAICHI (ISHIHARA SANGYO)
MIE-ken, YOKKAICHI ISHIHARA-machi, No. 1

Relief Map - relative location to other camps in area
Street Map Location: slow loading
Satellite View - requires Google Maps; view as of today.

---

Time Line:
11 Aug 1944: Established as Osaka 17-B Branch Camp
6 Apr 1945: Command changed to Nagoya Area Command, Established as Nagoya 5-B
25 May 1945: (date approximate) - 150 men transferred out to Nagoya #7B Toyama
Sept 1945: Rescue effected
---
Camp Photographs: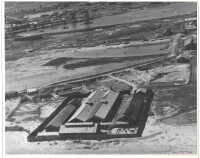 See More Images - Absolutely worth viewing the entire collection
Labor:
Sulphuric Acid Manufacturing

Hell Ship:
Most Americans from the Canadian Inventor and Nissyo Maru
---

Rosters:
British (25) pending
Dutch - (74) plus 3 deceased transcribed by Mr. Robin Kalhorn
Americans: (196) possibly missing a few names and our count (189) does not match other records. New rescue roster located in RG 407 Box 102 pending transcription (see below PDF file).
Original rosters (PDF)

List of Deceased:
Based upon typewritten report of Lt Col Guy Stubbs, Rg 407 - [This may be in error as Col Stubbs' report clearly states it was Nagoya #7-B but he was sent there after this camp]
---

Books:
Heimbuch, Raymond C., I'm One of the Lucky Ones - I Came Home Alive, Dageforde Publishing, Inc., 2003. POW Camps at Camp Casisang and Davao Penal Colony on Mindanao and Yokkaichi and Toyama in Japan.
---

Affidavits:
Dutch soldier, Frank Samethini, discusses his experience at Yokkaichi before his transfer to another camp, Nag #7 thence to Nagoya #11. Very well written.
Affidavits of Harley E. Shadoan regarding the brutality of the Japanese guards. Provided by his son, Harley E. Shadoan Jr.
Page 1 Page 2
---

Stories of men:
Biography of Carl Robert Ruse by Timothy Ruse; more can be found here. Book also available: "We Volunteered."
War diary of Dutch POW, F.W. Baumeister, translated into English by daughter, Irene. See this special page on Baumeister and the POW supply air drop of Aug. 30, 1945. See also more on the hospital ship USNHS

Rescue

.