Nagoya Camp 9-B JINZU
(NIPPON TSUUN) [Japan Transportation Co.]
TOYAMA-ken, TOYAMA-shi, HIGASHI IWASE-machi, OHIROTA

Satellite
Area map

Sketch found in RG 331 Box 943 with other Toyama camp files but has not been verified; "Showa Denki" possibly Tokyo #16 or Osaka #8-D.

---

Timeline:
27 May 1945: camp established as Nagoya 9B Jinzu- opens with 230 Americans. 86 of these Americans had previously been on Taiwan and sent to the Osaka area before this camp opened.
18 Jun 1945: 100 British arrived from Osaka #6 Dispatch Camp (formerly named Akenobe)
25 Aug 1945: Machinist Mate Kimball dies from effects of beri beri and severe malnutrition- sole death in camp
5 Sept 1945: Rescue effected
---
Photographs: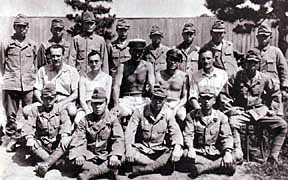 Group 1 Photograph with limited identities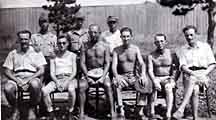 Group 2 Photograph with limited identities

SPECIAL: Souvenir pictures from Pte. Kenneth E. Mutimer; mug & fan with dates and names

Supply drop on camp


---
Labor:
Stevedore work on docks at Iwase; limited garden within camp.

---

Hell Ships
Not applicable for Americans- sent from Osaka area- ex Hirohata and Naruo.
British and Aussies Osaka area: ex Hong Kong and Amagasaki
---
SCAP Legal Division Investigation:
Report by 1st Lts Joseph G. Breaune and Richard W. Wills, Jr.; summary of camp conditions and abuse reports.

Original investigation report, camp layout (PDF)
---

Rosters:
Camp included 230 yanks (incl 2 civs), 100 British, 19 Aussie & one Dutch- NARA RG 331, Box 942
Spreadsheet (download XLS file): Contains more details for each man
Americans: 230 men
British: 100
Australians: 19

Original rosters (PDF) - American, British, Australian, Dutch; includes deaths

Army Sgt. John Massimino testimony (PDF)

---

Deceased:
One man: Murry Kimball, US Navy- see roster; died after surrender (28 Aug 1945) as a direct result of beri beri and severe malnutrition.
Dutch: (1 POW)
Van Doorn, Johannes, Pvt, NEI Navy, #M4868; This man was a survivor of the Oryoku/Enoura Brazil debacle, having previously survived another hell ship sinking and was taken to Manila upon his first rescue. He was thence moved to Taiwan on the Hokusen Maru. He remained in Taiwan until moved up to Japan on either the Melbourne or Enoshima Marus (per Researcher Jim Erickson). Although he appears on the rescue roster, he definitely perished on 7 March 1945 at Osaka Camp #8 Naruo. His urn and photo are at the Menteng-Pulo Dutch War Cemetery.
---

Japanese Staff: List with dates assigned to camp or work place. Picture on one Japanese civilian guard.
Original staff documents (PDF) - Staff roster, Jomura statement, Furuyama statement, Ichikawa interrogation, Hojo statement.