Source: NARA RG 407, Boxes 11 and 12
Picture: from New Zealand Toyko Embassy web site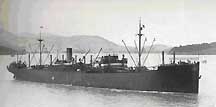 The MV Hauraki was captured 12 July 1945 by the Japanese en route from Freemantle in Australia to Columbo, Ceylon (Sri Lanka). All 55 crewmen were taken to the Changi Prison (civilian) in Singapore. Twenty-three men were retained as crew to take the "prize" to Japan. All 23 were then taken to Tokyo Dispatch Camp #1. When the camp closed, the 22 survivors were placed in Sendai #5. Two more died here during the shelling. [Deceased (4) in red] The Hauraki was renamed the Hoki Maru and used to transport men and equipment for the Japanese. The Hoki Maru was sunk in the Truk Lagoon during a US Navy carrier attack on 17 February 1944. See here for the full story of the MV Hauraki and how the crew sabotaged the ship en route to Japan. Full story on Truk raid.

---
Name, Position, Date of Death (yy.mm.dd), Camp of Death, Cause, Home
Captain:
Creese, A.W., Australian (shipped to Japan on the Tokyo Maru)

Crew:
Alexander, Ernest C., British
Bell, Robert, New Zealand
Brodie, William Henry, 5th Eng Off, 45.08.10, Sen-05B-Kamaishi, Died of burns from shelling, New Zealand
Falconer, William C., Chief Mate, Australian (shipped to Japan on the Tokyo Maru)
Gabel, Joseph Roy, Engineer, Australian
Hall, William P., New Zealand
Harland, John, New Zealand
Hedlund, Martin, New Zealand
Hughes, Lewis, Motor Mech, 43.02.27, Tok-01D-Yokohama (Mitsubishi Shipyard), Pneumonia, New Zealand
Holland, William, 45.07.12, Tok-01D-Yokohama (Mitsubishi Shipyard), New Zealander but parents in England
Hurley, Charles T., New Zealand
Innes, James D., New Zealand
Jacobson, Earl, Canadian
Lindsay, Archibald A., Australian (shipped to Japan on the Tokyo Maru)
McCallum, Duncan T., New Zealand
McCready, Edward, British
Meredith, Alexander, British
Mutton, Gordon N., Jr Eng, Australian
Porteous, Williem E., New Zealand (in Morioka Hospital)
Scott, Denholm Kemlo, Engineer, Australian
Thomson, Robert L.B., New Zealand
Todd, William Angus, 1st Officer, 44.04.19, Tok-01D-Yokohama (Mitsubishi Shipyard), Pneumonia, New Zealand (shipped to Japan on the Tokyo Maru)
---