Fukuoka-06B-Mizumaki (Orio)
(NIPPON KOGYO ONGA KOGYO-SHO)
FUKUOKA-ken, ONGA-gun, MIZUMAKI-machi

Satellite View
Area Map
Aerial (Jan. 1948; courtesy of Japan Map Archives)

---

Time Line:
22 Apr 1943: Established as Fukuoka #15-B
1 Dec 1943: Renamed Fukuoka 9-D
Aug 1945: Renamed Fukuoka 6-B
21 Aug 1943: Australian George A. Irwin murdered.
Sep 1945: Rescue effected

---
See also 6-B Roster Summary Statistics (named as 9-D)
---

Reports:
General camp report including food supplied, other events.


---

Photographs:
Barracks - outside
Barracks - inside
Numerous pictures taken at liberation

Monument to the 871 Dutch Prisoners who perished at this and other camps in Japan. Location?
Mizumaki Cross Memorial
Mizumaki Town memorial site - PDF - English



Can you identify these men? Let us know.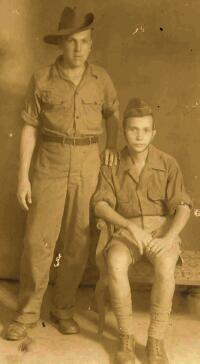 Labor:
Coal mining - 1,062 men worked as slaves.

Hell Ships:
Original group of British arrive on the Singapore Maru
Numerous Americans possibly arrived earlier (at Fuk-02B) on the Kamakura or Tofuku Maru.

War Crimes:
Murder of Australian Private George Alfred Irwin on 21 August 1943 by Sgt Maj. Tsuguo Iwanuma. Summary of testimony for War Crimes Division.
Lts. Cohn & Humphrey Report, SCAP Legal, investigation of Japanese staff involved in murder of Irwin.

Affidavits:
Aki, Patrick K. (CPNAB) - Newspaper article relating his experiences.
Condit, Gomer Henry (CPNAB) - Affidavit relating mistreatment at Fukuoka #1 by guard named "Bucktooth".

Rosters:
This camp contained 1,062 POWs at time of rescue, mostly Dutch.
Original prelim roster - mixed nationality; names only, not in alpha order (see below for complete roster)



Dutch roster spreadsheet

(courtesy of Henk Beekhuis)

Americans: not the actual rescue roster as it is dated 1 July 1945. One man perished in July 1945 after transfer to Fukuoka #3 at Yawata. Many Americans known to have been previously at Fukuoka #2B Nagasaki at unknown date in 1945. Original American roster (prelim and completed; see below for complete roster)



Complete rosters

(originals, PDF) - British, Dutch, American, Australian, South African, Canadian
FUK-06_Rosters_1946-02-16.pdf - ORIGINALS

Deaths:
Per Japanese Research Network
Deceased roster (originals, PDF) - includes injuries, weight of food and calories, punishments

NOTE: Dutch web site now lists all of the Dutch in this camp. Very important research and a "must see". (Google translation to English)
Another website has full Dutch roster in this camp; courtesy of Oriol Rijken. Site created by noted historian Henk Beekhuis. (Google translation)



Diary of Ton Verstraaten - website by Jan Verstraaten. Website in Dutch -- Google translation into English (not the most accurate but enough to read all the links)

Known - Senior British were Majors Graham & Busby per Red Cross Report, 13 April 1943.

---
Archival Documents:
FUK-06_Orio_mining_accidents
FUK-06_Assorted_contents_RG331_Bx922