Making peace with the past
How one small town in Kyushu is going out of its way to promote reconciliation between former enemies
By Asami Nagai
Daily Yomiuri Staff Writer
MIZUMAKIMACHI, Fukuoka -- Under a scorching noonday sun, a group of Dutch exchange students offered silent prayers before a plain white cross. Sweat poured off their brows as they laid wreaths and posed for solemn photographs. The Cross Memorial, as the site is known, commemorates 869 Dutch prisoners of war who died in Mizumakimachi or other parts of Japan during World War II. It stands as a focal point for many former Dutch internees making pilgrimages to Japan, as well as youngsters like the 14- to 17-year-old students who stood before the cross last week.
That they know about it at all is thanks largely to the efforts of one former POW, Dolf Winkler, who has been working to build bridges between the Netherlands and Japan for the past 15 years. The exchange program, which began in 1995, also grew out of the 83- year-old Dutchman's work in forging grassroots ties between Mizumakimachi and his hometown, Noordoostpolder.
Flashback to Jan. 10, 1942, when the Japanese Imperial Army invaded the Dutch East Indies (present-day Indonesia) under the pretext of creating the Greater East Asia Coprosperity Sphere. After two months of heavy fighting, the Dutch colonial army surrendered and about 65,000 Dutch and Indonesian servicemen were sent to labor camps.
About 8,000 were transported to Kyushu, Winkler among them. He found himself doing forced labor at a Mizumakimachi coal mine with about 1,000 other Dutch, British and Australian POWs.
According to local writer Eidai Hayashi, 66, an authority on the history of forced labor in Kyushu, as many as 140 of these internees died before the war's end -- from disease, malnutrition, accidents or the sheer severity of their treatment. Nobody seems to know what happened to their bodies. Fearing Allied investigations into war crimes, mine officials tried to hide their neglect of the dead, Hayashi said. On Aug. 15, 1945, the day Japan surrendered, they hastily set to work erecting a cross -- a false monument on a bogus burial site.
After the war, the cross stood ignored, swallowed up by wild grass and bushes. Hayashi only learned of its existence in 1970.
Fast forward to 1985, when Winkler, who for years had been tormented by nightmares about his wartime experiences, decided to visit the site of the labor camp on the advice of his therapist. Hayashi took him to see the neglected cross -- a profoundly saddening experience. A year later, Winkler returned to Japan to urge town officials to refurbish the memorial.
Perhaps nothing would have been done, were it not for Hiroshi Kurokawa, 67, who feared that apathy on the town's part might cause an international incident. Kurokawa himself had long been aware of POW issues, ever since he and his brothers, as boys, saw tall but emaciated Allied soldiers marching between the coal mine and their camp in a neighboring town.
"To a Japanese boy's eyes, they looked enormous, with sharply glaring eyes," Kurokawa's 63-year-old brother, Hidetoshi, recalled.
The Kurokawas pressed the issue with the town, and in 1987, the Cross Memorial was given a makeover, complete with an explanation board in Japanese and English. In addition, a plaque bearing the names of all 869 Dutch POWs who died in Japan was donated by an association in the Netherlands. Meanwhile, the Kurokawa brothers formed a volunteer group to tend the memorial and host yearly services. Today, about 100 people are involved.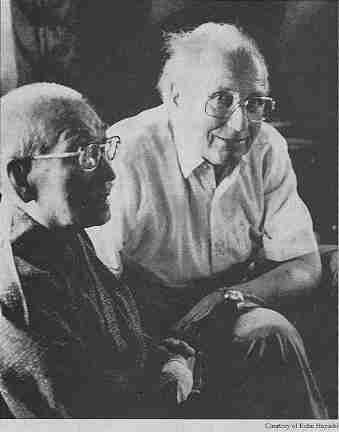 Dolf Winkler and Minoru Tamura meeting in 1985
---
Old enemies, new friends
On his 1985 visit, his first to Japan in 40 years, Winkler had another mission: to meet Minoru Tamura, a former guard at the Mizumakimachi mine.
"Winkler recalled that he had received food from Mr. Tamura when he was emaciated and weak, which was strictly against regulations," Hayashi said. Winkler also told Hayashi that Tamura had lightened his workload out of concern for his health.
Hayashi managed to track Tamura down, and organized a meeting. Tamura, who has since died, was ill at the time and had just returned from hospital. Even so, he was delighted with the reunion, Hayashi said. The two men looked at each other and embraced.
Meeting with Tamura seems to have helped alleviate Winkler's pain, Hayashi added. Since then, the Dutchman has visited Mizumakimachi every year -- sometimes more than once -- with fellow former POWs and their families.
Kurokawa still remembers the bitter look on Winkler's face -- a countenance that took three years to relax into a smile. "One of the Japanese phrases he still remembers is 'Hayaku koi' (Get over here now). That gives us an idea of how much he went through," he added.
Winkler, who has visited local primary and middle schools to share his experiences with younger generations, has said repeatedly that true reconciliation means facing up to and overcoming the past. In this spirit, Kurokawa's group has for the last three years hosted welcome parties for pilgrimage groups from the Netherlands.
"Memorial services are fine, but human-to-human communication is just as important. When people eat and drink together, they express their true feelings. The stony faces we see on the first day soon brighten into smiles," he said.
Even so, not all townspeople are aware of the Cross Memorial even today, let alone the wartime suffering of POWs, Mizumakimachi officials admitted. There is outright antagonism, too. On the explanation board next to the memorial; two Japanese words -- "kibishiku" (harshly), describing the treatment of POWs at the hands of the Japanese, and "awatete" (hurriedly), describing the haste in which the cross was first erected -- have been scratched out.
Winkler is not the only one to have sought reconciliation with former enemies. Nobuo Ikegami, 81, has a similar story to tell.
Ikegami was a commandant of a civilian POW camp in Sumatra, Indonesia's second largest island. After the war, he was imprisoned as a possible war-crimes suspect, but was subsequently exonerated and released. Ikegami says he owes his life to the late Albert Besnard, formerly chief editor of the Sumatra Post, who organized a petition testifying to Ikegami's humane behavior as commandant. Presumably the petition was signed by former POWs at the camp.
Ten years ago, he met one former internee by chance in Indonesia.
"When I learned he was in my camp as a 10-year-old boy, I told him how deeply sorry I felt that 116 Dutch out of 2,000 died there. The following day, the man told me my words had erased his 40-year grudge against Japan," Ikegami said.
Since then, the two have exchanged letters, and they met again last year in Amsterdam.
"He brought along two more internees. We talked and talked in Indonesian, nonstop. Such a lot to talk about," he said.
Town puts history on show
Ikegami, a Tokyo native, was actually visiting the Netherlands to see the exhibition titled "Dutch, Japanese, Indonesians -- The Japanese Occupation of Indonesia Remembered," organized by the Netherlands Institute of War Documentation.
During the exhibition's planning stages, director Erik Somers had had difficulty finding venues for an anticipated Japan tour -- probably because of the show's sensitive theme. In 1998, he visited Mizumakimachi with a group of POWs, and asked Mayor Hiroyuki Tanaka if the town would host it in 2000 as part of celebrations commemorating 400 years of Japan-Dutch relations. Winkler's wife later followed up with a written request. Before long, the town agreed.
"We didn't worry too much about negative reactions from people," Tanaka said.
Somers echoed Winkler on the issue of facing up to the past. "On the Dutch side, when people think about Japan, they remember the Japanese occupation of the East Indies. But they are not aware of the bitter life the Japanese endured after the war, including trials (conducted) by the Allies in bad conditions, nor of the hardships of the Indonesians. In Japan, this period has not been paid much attention to. So we tried to find a way to present this dark period in a constructive way," he explained.
The exhibition consists of photos, mementos and testimony representing Dutch, Japanese and Indonesian viewpoints. Many of the objects on display tell personal histories, Winkler's included. Organizers say they are not seeking to point the finger of blame at anyone in particular, but rather to stimulate dialogue.
"We received various comments from the Dutch as well as the Japanese," Somers said. "We knew this exhibition would receive criticisms. The Dutch said this presentation was too friendly to Japanese. In this difficult project, we can't make everybody happy."
He added that his staff have constantly been open to opinions. "We kept telling people 'Please tell (us) your feelings,'" he said.
Ikegami and other Japanese veterans, who were among the 80,000 who saw the Amsterdam exhibition over three months, were forthcoming in their views -- especially when it came to the inclusion of film footage showing Japanese atrocities.
"I understand historic views differ depending on who you are. Plus, it's the Dutch institute's job. Personally, I think it's all right to hold this exhibition as long as the contents don't offend Japanese too much," Ikegami said.
Another veteran who saw the exhibition added: "Nobody can expel the Netherlands or Japan from the globe, so we have to live together on this planet. If wartime experiences that lasted 31/2 years ruin 400 years of bilateral relationships, that's a real shame."
---
"Japanese, Dutch, Indonesians -- The Japanese Occupation of Indonesia Remembered" will be held at Kyoto Museum for World Peace at Ritsumeikan University in Kyoto, Aug. 1-10. Then, it will go on tour to Usuki, Oita Prefecture, Sept. 15-30; Mizumakimachi, Fukuoka Prefecture, Oct. 17-Nov. 12; Nagasaki, Nov. 13-23. The exhibition's tour schedule has yet to be finalized for next year.
Copyright 2000 The Yomiuri Shimbun